Angry residents of Baltimore clashed violently with police and there were several outbreaks of looting and arson, following the funeral of a 25-year-old black man who died of a spinal cord injury while in police custody. The city declared a curfew and Maryland's governor mobilized the National Guard.
After the afternoon funeral of Freddy Gray, which was attended by thousands of mourners, what was initially billed as a peaceful protest turned violent. A large crowd pelted police with stones and bricks, according to reporters present. Fifteen officers were injured and 27 people were arrested, police said. A number of Baltimore businesses were looted, and set on fire, including a pharmacy and several stores in the city's Mondawmin Mall.
The same man wearing a gasmask shown in the photo above was later seen on CNN, apparently slashing a firehose that was being used to put out a pharmacy fire:
Baltimore mayor Stephanie Rawlings-Blake declared an immediate curfew for teenagers, who made up much of the violent crowd that fought with police, and the city's schools will be closed tomorrow.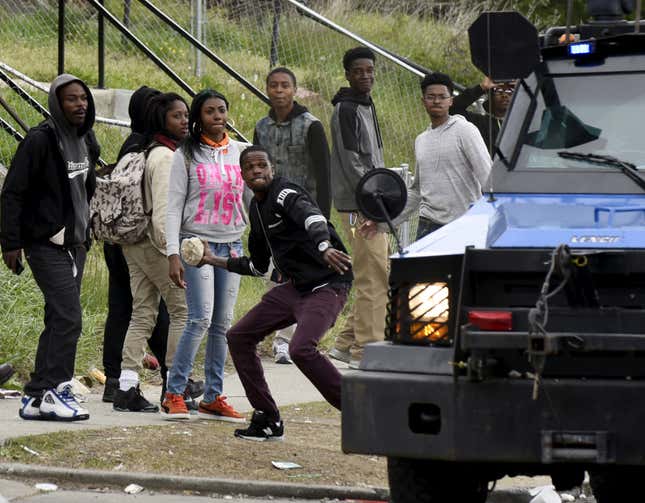 A nighttime curfew for all Baltimore residents will take effect tomorrow. Rawlings-Blake said there was a clear difference between protesters and the "thugs" who were engaged in rioting, adding: "It's idiotic to think that by destroying your city, you're going to make life better for anybody."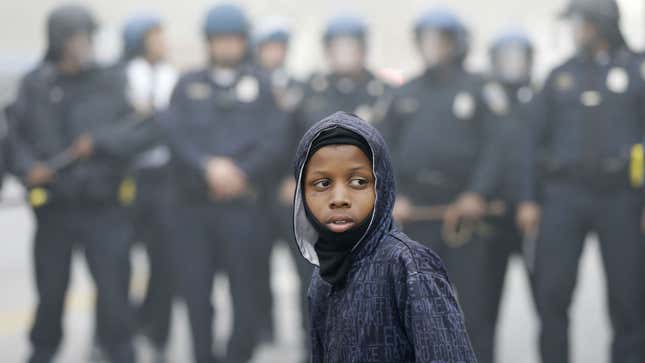 The writer David Simon, a former reporter for the Baltimore Sun and the creator of the acclaimed HBO series The Wire, which chronicled the city, weighed in on his personal blog:
The anger and the selfishness and the brutality of those claiming the right to violence in Freddie Gray's name needs to cease," he wrote. "If you can't seek redress and demand reform without a brick in your hand, you risk losing this moment for all of us in Baltimore. Turn around. Go home. Please.