Talk about awkward timing.
Just as Britain's Conservative party enters the final stretch of its fight to maintain control of Parliament, the Office for National Statistics rolled out a really disappointing GDP figure. The UK economy grew at a 1.2% annual pace in the first quarter, half the speed of the previous quarter and the slowest rate since 2012. It's a testament to the difficulty that the world's advanced economies—even relatively healthy ones like Britain—have faced in their attempts to return to sustained growth.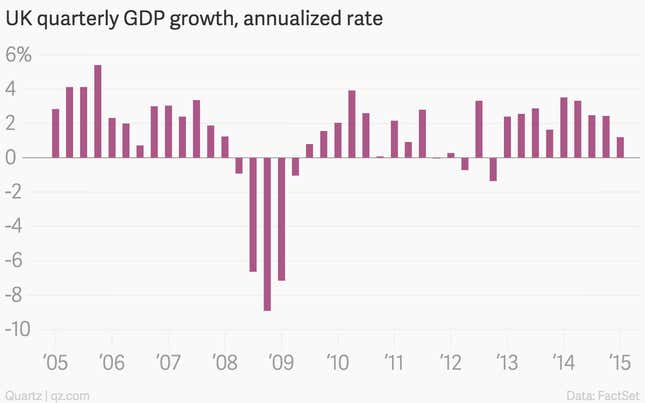 Of the main industries that the ONS tracks—agriculture, production, construction, and services—only the service sector had a positive contribution to GDP, with business services and finance barely growing. In fact, services is the only major British industry to have fully recovered from the recession.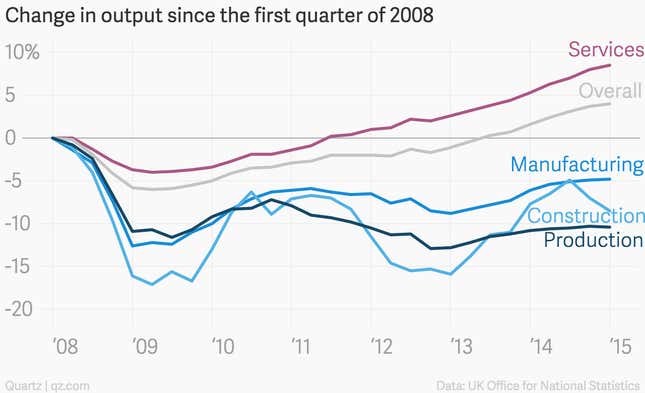 British elections are May 7, and things are getting heated. The economy has been one of the bigger campaign issues in the close race between the incumbent Conservative party and the Labour party, its main competitor.
Its leader, Ed Miliband, wasted no time in using the weak GDP figure as a cudgel:
The Conservatives, for their part, have been defending their budget-cutting austerity program, insisting that the first quarter was but a speed bump, and that the British recovery needs to be safeguarded from the party's political opponents.