Jon Stewart may be leaving his post at The Daily show later this year, but he's still got a few scathing zingers left in him. The host was in especially top form on Apr. 27, as he expertly lampooned the editorial priorities of one of his favorite targets, CNN, which chose to spend Saturday night gushing about the White House Correspondents Dinner despite the intense protests raging in nearby Baltimore, Maryland.
[hulu id=_9x5vshkotrmwqadhg8chw width=512]
This year's so-called Nerd Prom, where journalists hob nob with celebrities, coincided with protests some 50 miles away over the killing of Freddie Gray, a 25-year-old Baltimore resident who died on Apr. 19 after suffering a severe spinal injury while in police custody a week earlier.
As protests flared, however, CNN kept its camera focused on the White House festivities, creating an absurd juxtaposition of power and privilege that social media was quick to point out, Stewart noted.
But by far the worst part, according to Stewart, was "how incredibly aware and yet simultaneously dismissive" CNN hosts appeared to be. Aware of the mounting criticism, CNN still refused to yield. At one point, contributor Errol Louis went so far as to suggest people interested in what was happening in Baltimore should simply check Twitter.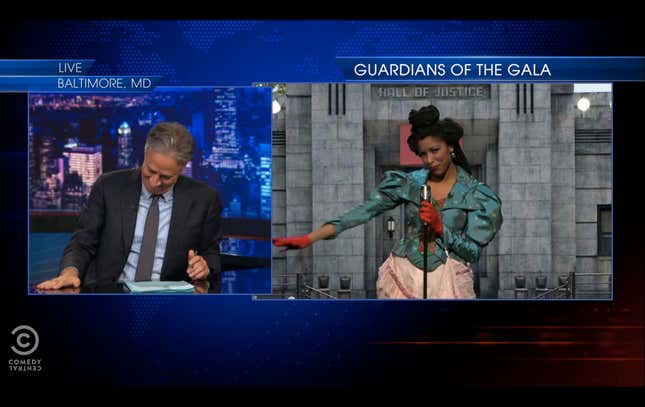 By the time the partiers in Washington, D.C. were drunkenly heading home for the night, at least a dozen Baltimore residents were reportedly arrested and the mostly peaceful protests had begun to turn confrontational.
Stewart ended the segment with a rather delicious Hunger Games homage featuring a heavily made-up Jessica Williams as a journalist irritated that inconvenient topics like police brutality or systemic inequality might spoil her special day. Standing in front of a mock Hall of Justice, the always spot-on Williams explained that "grief is no excuse for disharmony, especially so close to the capital on such an important weekend." Then, in a sardonic send-up of the #BlackLivesMatter movement, Williams noted, "Black ties matter, Jon."