If you can push past the dating metaphors and wave off the corporate cheerleading, Jeff Bezos' annual shareholder letter provides a rare glimpse into the furtive founder's vision for Amazon's future.
Despite Bezos' use of a Tinder analogy to simplify Amazon's philosophy on growth ("When you find [a good business], don't just swipe right, get married") and his attempts to infuse his prose with the can-do attitude of a young startup ("Our approach remains the same, because it's still Day 1"), the winding descriptions of the many businesses it operates reveals just how much of a hulking conglomerate Amazon has become.
Amazon is now a mega-corp comprising an e-commerce company, a hardware and device maker, a government services provider, a cloud computing and marketing company, a transportation and logistics outfit, a lender, a payment processor, and a warehouse operator.
As we learn from this year's letter, it's also an educator (it now offers continuing education classes in its warehouses) and is fast-becoming a media magnate—albeit one that primarily uses its achievements in the entertainment sector not to stock its award case but to stock customers' garages and changing tables.
From the letter:
I'm pretty sure we're the first company to have figured out how to make winning a Golden Globe pay off in increased sales of power tools and baby wipes!
Amazon's stock market value is now bigger than IBM's or Walt Disney's, a distinction helped by the strong earnings report Amazon delivered on April 24. The recent stock-price surge also helped Bezos cement his title as the 10th richest person in the world, on par with Walmart heiress Christy Walton, America's richest woman.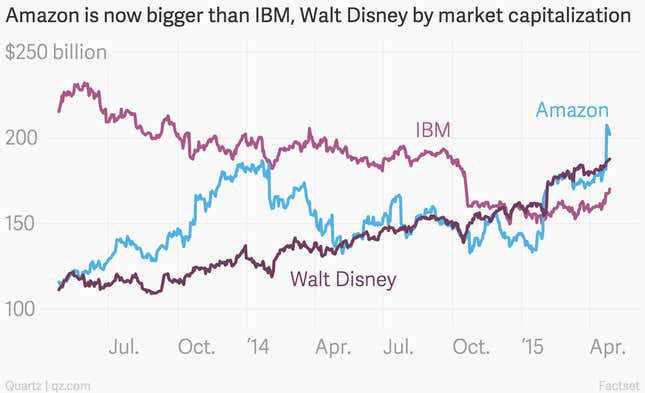 While Amazon is still making near-daily announcements about new product lines for shoppers, it's clear Bezos has moved far past his ambitions to create the largest store on earth.
Bezos' empire-building is totally out of step with the frenzy of high-profile corporate breakups occurring of late, including General Electric's sale of its finance and appliance units and  PayPal's split from eBay. The surge in corporate spinoffs comes as shareholders and activist investors like Nelson Peltz and Carl Icahn make the case that these businesses are worth more separately than together.
Holding 18% of Amazon's shares, Bezos is less likely to draw ire from activist investors as he entertains totally new lines of business—from phones and drones to data centers and television shows.
Instead, he promises in his most recent shareholder letter that there are "a number of candidates in the works" for future billion-dollar businesses and "as we promised some twenty years ago, we'll continue to make bold bets."
All of this comes without any mention of profit, a word he hasn't uttered in his annual letters since 2009—save for the explanation in his first shareholder missive back in 1997 (which he reprints each year) that recounts how Amazon wouldn't be focused on short-term profits. Go figure.