If at first your ad campaign gets accused of promoting sexual assault, try, try again. Or at least, that seems to be the PR mantra at the US beer giant Budweiser.
In March, @BudLight sent out this tweet for St. Patrick's Day.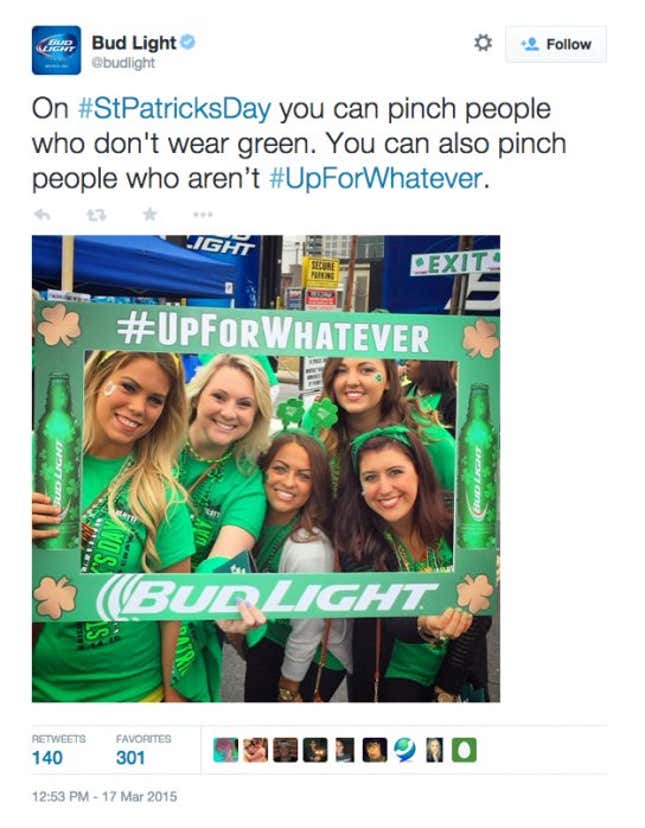 The offended responses soon followed:
Before long, @BudLight took down the tweet and apologized, saying, "We understand that some people misunderstood our St. Patrick's Day post and we want to apologize to everyone who was offended. Our intention was only to be playful and celebrate the holiday."
Lesson learned? Not really. In a photo that showed up last night on Reddit and is making the rounds on Twitter this afternoon, the #UpForWhatever hashtag is back, this time accompanied by a tagline that—somehow—manages to make the idea of pinching strangers seem innocent in comparison: "The perfect beer for removing 'no' from your vocabulary for the night."
Because "no" can't mean "no" if the word doesn't even exist, right?
Quartz has reached out to the company to ask how many bottles the message was printed on, and will update this post with any response.
Worth noting: The North American leadership team at Anheuser-Busch, which owns Bud Light, has 13 men and only one women.
The company issued a response to the flap, delivered by Alexander Lambrecht, a vice president at Bud Light:
The Bud Light Up for Whatever campaign, now in its second year, has inspired millions of consumers to engage with our brand in a positive and light-hearted way. In this spirit, we created more than 140 different scroll messages intended to encourage spontaneous fun. It's clear that this message missed the mark, and we regret it. We would never condone disrespectful or irresponsible behavior.