Australia reacted swiftly to Indonesia's execution of eight convicted drug smugglers, including two Australians, on April 28—the ambassador to Jakarta was recalled, Australian prime minster Tony Abbot promised "this cannot be simply business as usual," and thousands of  citizens have pledged to "Boycott Bali" on social media, refusing to buy Indonesian products or travel there. Australia abolished the death penalty in 1973.

While the impact of hashtag activism as a social and political force are widely debated, and few Australians were canceling planned trips as the news of the executions broke, the risk of a drop in tourism is real. Thanks to successful promotion, Indonesia's has doubled international visitors since 2005: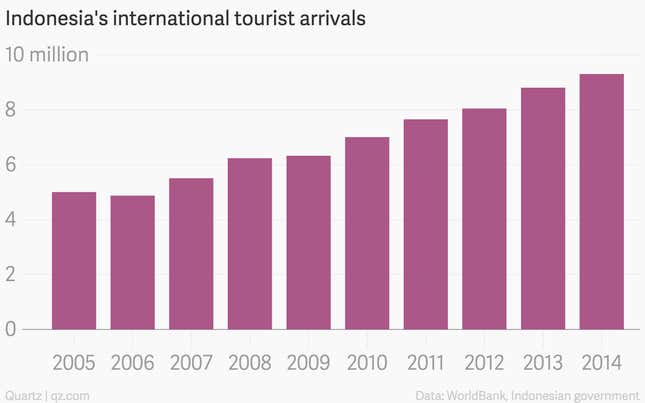 Tourism contributes 4% of the nation's GDP and employs 10 million people, tourism minister Arief Yahya said at the end of 2014. In five years, tourism's contribution to GDP will double, he predicted, bringing in $20 billion in foreign-currency revenue.
Australians make up the third-largest number of visitors to Indonesia after Singapore and Malaysia—nearly 1 million arrived in 2013. Indonesia is also Australia's 12th-largest trading partner.
So far, Indonesian officials and citizens are nonplussed. Australia's recall of the country's ambassador is "just for a while, a month or two, to signify protest," vice president Jusuf Kalla told reporters. Threats to boycott Indonesia have also sparked a local backlash, with Indonesian citizens offering online advice to Australian tourists on how to behave instead.