Different day, different bank, same story. Today, it was Royal Bank of Scotland's turn to report a weak quarterly profit thanks to unexpectedly large legal costs. Yesterday, its rival Barclays revealed a similar dent in its latest earnings.
RBS reported a first-quarter loss of £446 million ($689 million), versus a £1.2 billion profit in the same period last year. In total, the bank has lost a whopping £13 billion over the past two years: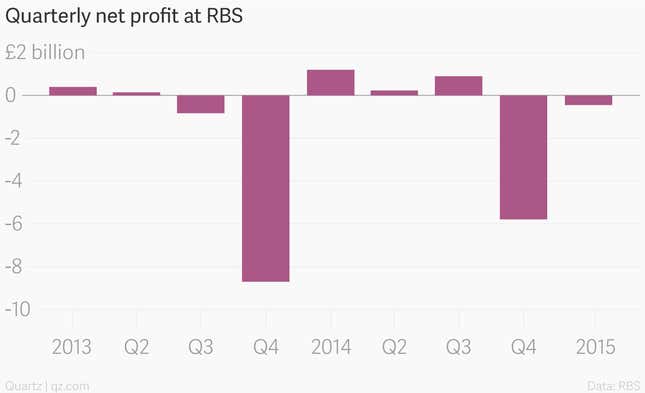 Like other big British banks, RBS's legal problems continue to haunt it, saddling the group with an £856 million ($1.32 billion) charge in the first quarter. Cumulatively, the bank has set now aside some £5 billion ($7.7 billion) in provisions to cover the various "litigation and conduct" charges looming over it. In particular, it faces additional penalties from the US Department of Justice for manipulating foreign-currency markets, on top of the $634 million (£411 million) it paid to settle a similar currency probe with American and British regulators late last year.
In addition, a radical restructuring plan announced last month by CEO Ross McEwan will generate significant costs as the bank sheds staff and dumps assets in hopes of becoming "stronger, simpler and better for both customers and shareholders," in the chief exec's words.
In recent quarters, RBS has spent nearly as much, or more, on restructuring and legal charges as it has paying its employees. Is it in the business of banking, or just paying severance and litigation costs? Sometimes it's hard to tell: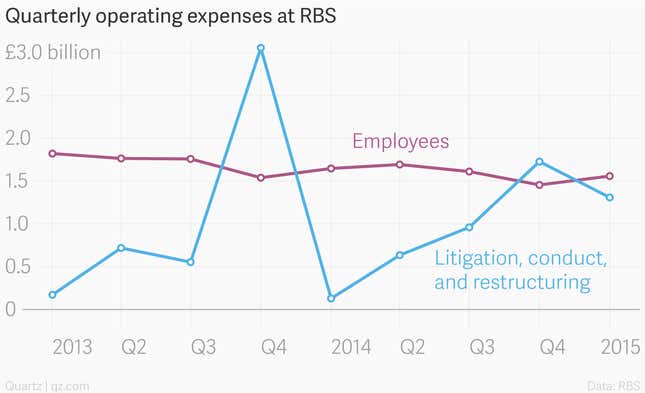 "We're doing what we said we would do this year, which is tidy up the business from a restructuring perspective and getting as much of the conduct and litigation out of our way," McEwan told reporters today. "I look forward to the day we can focus on the future rather than on legacy issues."
RBS shareholders, most notably the British government, which owns a majority stake in the beleaguered bank, feel the same way. But they appear to be losing patience waiting for RBS to sort itself out. The bank has badly underperformed its rivals, which are suffering from all of the same issues, so far this year.
A big drop today on the back of the bank's ugly results won't help matters: