In a room with a direct view of the Statue of Liberty, a 17th century painting stolen by the Nazis was returned to its rightful owner today during a well-attended ceremony held at the Museum of Jewish Heritage in downtown Manhattan. "Portrait of a Man," attributed to the workshop of the Late Renaissance Italian painter Giovanni Battista Moroni, belonged to Dr. August Liebmann Mayer, a renowned art historian and curator who worked at the Bavarian State Paintings Collection and the University of Munich. The painting has been in storage at the Louvre Museum in Paris since 1951.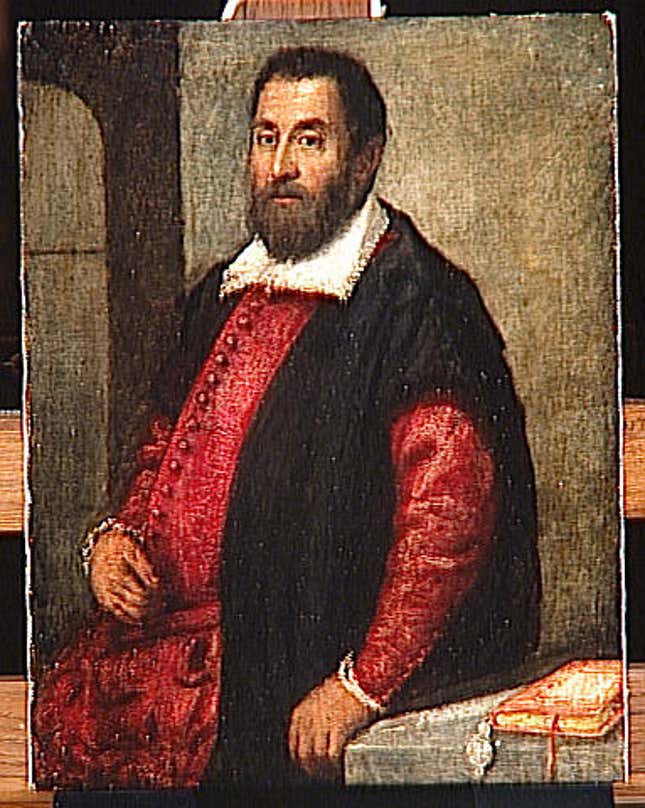 The painting itself is a copy, presumably by one of Moroni's followers. It's a rather crude approximation of the fine original portrait of the politician and diplomat Jacopo Foscarini, now in the Museum of Fine Arts in Budapest.
But at this event, value, quality, or proper art handling (see photo at top) were not the focus. Unlike in other more high-profile cases of Nazi-looted art restitution, Mayer's painting was a modest but meaningful token—a symbolic fruit in the ongoing search and recovery efforts for the so-called "last prisoners of war" from mankind's greatest genocide. Mayer's daughter, his sole heir and survivor, did not attend the ceremony for health reasons.
"While the terrible damage caused by Nazi persecution can never be repaired, we hope that the recovery of this painting will deliver at least some small measure of justice," said Benjamin Lawsky, superintendent of New York State's Department of Financial Services who spearheaded the painting restitution efforts in close cooperation with the French government.
The state of New York supports the world's only government entity that provides services free of charge or commission to Holocaust victims in the realm of art restitution. The department also launched an important, if rather aesthetically quaint, online database of artworks reported missing.