There are fresh indications American pay packets are getting a boost.
The latest evidence comes from Bureau of Labor Statistics report on labor productivity.
Released today, the report shows hourly compensation rose at an annualized rate 3.1% in the first quarter of 2015. After taking inflation into account, "real" hourly compensation grew at a 6.2% rate in the first quarter, the fastest pace since 2012.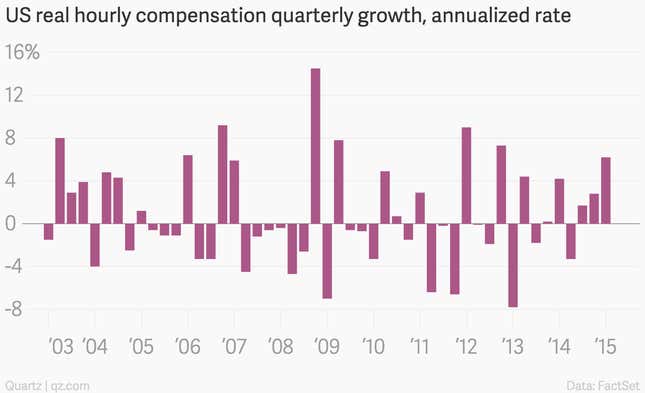 Weak inflation readings—driven largely by the decline of oil prices over the last year—have boosted the buying power of paychecks. But the latest data only confirms other recent readings that have shown healthy upticks in pay for American workers.
In normal times, signs that wages are rising might set off concerns that inflation could be set to get out of control. But with inflation-readings weak in the US and around the world, there is little indication that Janet Yellen's Federal Reserve sees rising wages as a reason to suddenly hike interest rates.