The devastation wrought by the 7.8-magnitude earthquake that struck Nepal April 25 has been severe. The quake killed nearly 8,000, injured more than 17,000, and destroyed some several million homes.
It also shrunk Mount Everest, the tallest peak in the world, by about one inch, according to data collected in the days after the earthquake by the European Space Agency's Sentinel-1A satellite. The change was detected using a method known as seismic interferometry, which essentially compares radar signals detected at different dates.
Seismic interferometry generates pictures known as interferograms, which show land displacement. In this interferogram, which was made by combining satellite images from April 17 and April 29, each colorful "fringe" indicates a displacement of about an inch: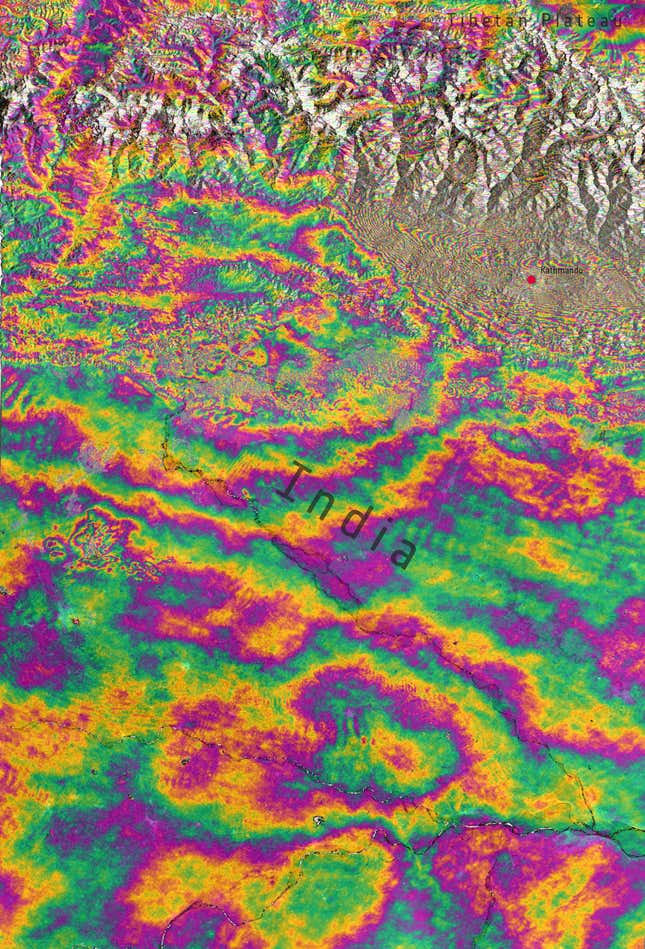 Other areas near the earthquake were raised up by three feet, according to Leeds geophysicist Tim Wright. Some land also shifted laterally in a north-south direction by as much as seven feet.
It's worth noting that these measurements aren't perfectly precise. Roger Bilham, a geologist at the University of Colorado, told the Huffington Post that he suspects the actual shrinkage of Everest from the quake is more like one or two millimeters.
In general, the Himalayan mountain range, which includes Everest, rises at a rate of about half an inch per year due to the convergence of the Indian Plate and the Eurasian Plate, the tectonic plate below the eponymous land masses.