Reversing a hefty tumble in the number of American births that followed the 2008 recession, the number of babies born in the US is rising for the first time in seven years.  The only problem is, so are the costs of raising children.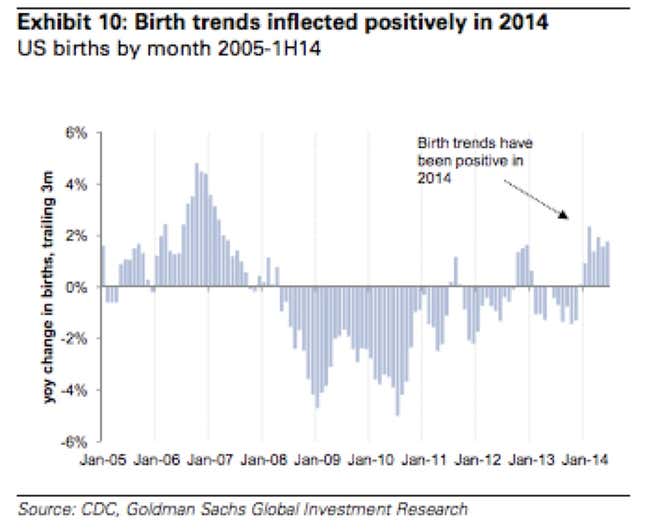 That's good news for retailers, food manufacturers, and other companies that are expected to benefit from the $1 trillion Americans now spend on their children every year, according to new research from Goldman Sachs. But it's a bit daunting for millennial moms, who now account for 90% of new moms, and are shelling out quite a bit more to raise their children than parents from just a generation ago.
The average family now spends 16% of its pretax income on a baby, resulting in $304,000 in cumulative spending per child through age 17 (accounting for inflation), Goldman says.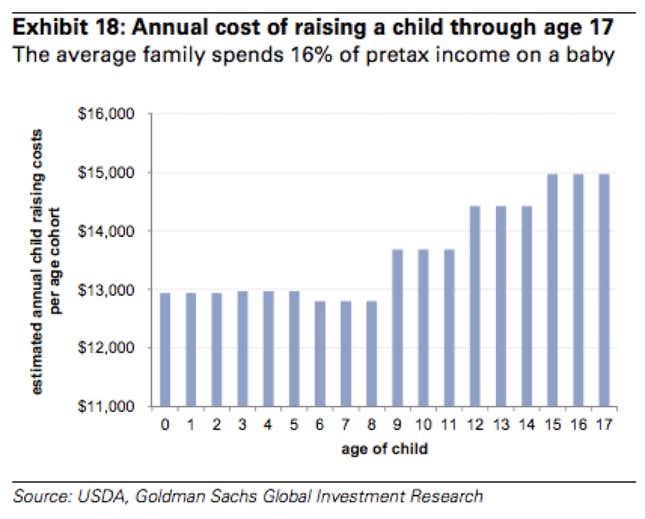 The biggest expense during that age period is housing, followed by child care and food.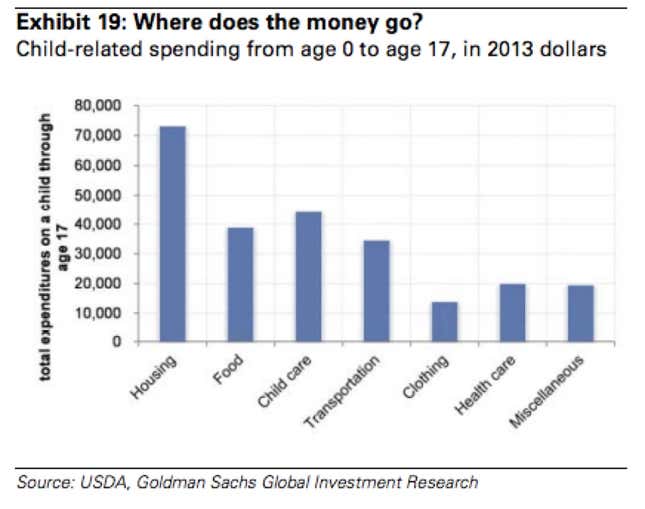 The costs then rise over 50% when accounting for four-year public college tuition, room, and board: It now costs an average $18,943 a year for public college tuition, room, and board, compared with $10,535 a year in 1995.
"Assuming that the rate of [public] college education continues at its current pace, Millennial parents can expect their newborn's college education to be $205k in future dollars," Goldman says.
All together, millennial families (the generation born between 1980 and 2000) can expect to spend half a million dollars over the course of each child's life—and the result is that this generation is pushing the choice to have children ever later. The average mother is now older (25 years old, versus 23 in 1995) and is having children later—the average age of a first-time mom is now 26.2 years old, compared with 24.5 for Gen X moms.
Plus, millennials are having fewer kids than Gen X moms did, with 12.4 babies born in the US per 1,000 people, compared to 14.6 births  in 1995, Goldman says.