Apple chief executive Tim Cook is the latest, and one of the most instantly popular, foreign executives to sign up to Chinese social media network Sina Weibo. Just 24 hours after he started his account—with a message saying he was "Happy to be back in Beijing"—Cook gained nearly half a million "fans" on the site.
Foreigners trying to reach citizens in China, whether they're a celebrity, athlete, businessman or politician, are flocking to Sina Weibo, which counts some 400 million registered users, 66 million of whom are active daily. Indian prime minister Narendra Modi was the latest head of state to sign on, amassing a respectable 40,000 fans in just a few days. (Note: You need a Sina Weibo account to read some of the posts that are linked below. You can register in English.)
As they did with Modi, many Sina Weibo users greeted Cook with "Are you okay?"—a nod to Xiaomi chief executive Lei Jun's recent speech in India, which has gone "sarcastically viral" as Chinese bloggers mock his broken English. Others professed their love for Apple products, noting their "fabulous experience" (link in Chinese).
Cook is certainly popular, though he isn't the most popular foreign chief executive or chairman with a Sina Weibo account, as this tally, taken at 5pm in China on May 12, shows: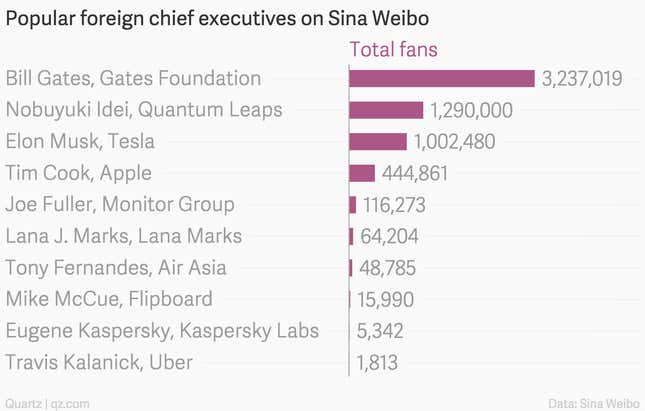 So what's the key to being a successful foreign executive on Sina Weibo? Besides posting in Chinese, pretty much the same as the key to being popular on any social network—being engaging, and sounding like a real person.
It isn't enough to just have a lot of fans, as Tesla CEO Elon Musk's interactions demonstrate. While his first-ever Sina Weibo post got about 1,000 comments, more recent ones mostly promoting Tesla haven't garnered much attention.
Former Sony CEO Nobuyuki Idea, who founded Quantum Leaps to nurture start-ups and new ideas in Japan in 2005, owes his popularity in part to the fact that he is a Sina Weibo veteran. He has been writing on politics and the Sino-Japanese relationship, sometimes controversially, since early 2012, and always in Chinese, earning him fans as well as critics.
Uber's chief executive, Travis Kalanick, has certainly been trying hard—he wished followers a Happy Year of the Goat in Chinese on the New Year, but the only two comments he received were complaints about Uber's service. One Sina Weibo user wrote: " Do you deal with complaints? Otherwise I'll call the police!"
Maybe not surprisingly, foreign business types' popularity pales in comparison to foreign entertainers on Chinese social media. South Korean singer Psy has more than 24 million Sina Weibo fans, and Japanese porn star Sola Aoi's completely SFW account, which features photos of her eating watermelon and hiding behind a bouquet of flowers, has nearly 16 million.