Conventional  wisdom about the disappointing data points coming out of the US is that a brutally cold winter in major portions of the country had been a drag on growth. But the April (i.e. early spring) retail sales numbers that came in this morning (pdf) from the Census Bureau are challenging that view a bit; they're up only 0.9% year-over-year, and stripping out auto sales makes the number flat.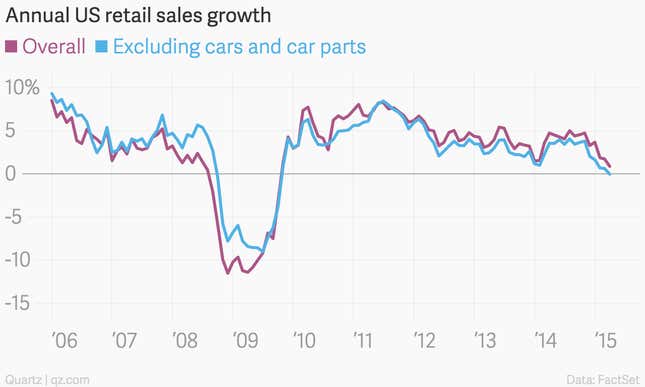 Yet American consumers are more confident, more employed, and more flush with savings than they have been in a while—and wage growth, long elusive for  the average US worker, looks like it's on the way. So what gives?
Bank of Montreal economist Jennifer Lee sums it up nicely in a note to clients:
The Bottom Line:  This report is revision-prone, is only measured in nominal terms, and doesn't factor in services, which account for 2/3rds of consumer spending. Having said that, this is clearly a disappointing report and shows that the U.S. economy is taking its time getting out of the 2015 gate.