Early this morning, news started filtering in that an army general in the small east African country of Burundi had declared a coup.
"President [Pierre] Nkurunziza is dismissed, his government is dismissed too," major general Godefroid Niyombare, the leader of the coup, proclaimed.
The question is whether Niyombare is acting alone or is he doing this with a little help from the region's leaders?
A bit of background. Last month Burundi's ruling party re-nominated Nkurunziza to run for the presidency for a third term in the upcoming elections in July. This is unconstitutional say his opponents. So protestors went out into the streets, opposing the decision, resulting in deadly clashes with security forces. Nkurunziza dug in, refusing to relent on his desire to seek the presidency again. The protests escalated, leaving 20 people dead with thousands fleeing their homes, becoming refugees in bordering East African countries of Rwanda and Tanzania.
For neighboring countries, this is an unwelcome distraction. As a region, East Africa is making significant progress. A mobile tech revolution in Kenya. Deepening democracy in Tanzania. An economic boom in Rwanda. An emerging oil economy in Uganda.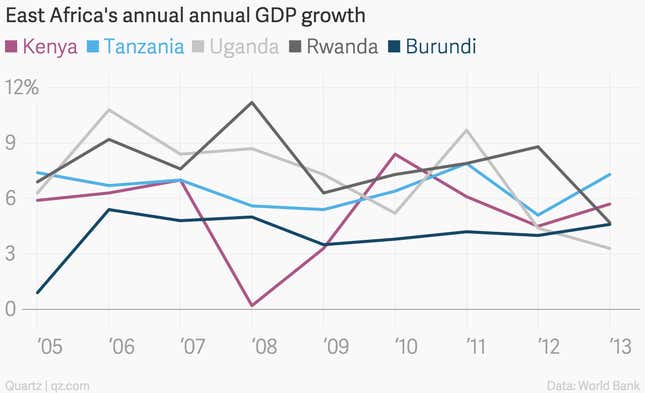 And now they have to deal with this? They didn't like it and they let Nkurunziza know it. "If your own citizens tell you we don't want you to lead us, how do you say I am staying whether you want me or not," Rwanda's President Paul Kagame said.
So they called an emergency summit in Tanzania's commercial capital Dar es Salaam and invited Nkurunziza to explain himself. South Africa's deputy president Cyril Ramaphosa, along with US assistant secretary for African affairs Linda Thomas-Greenfield, were going to attend the meeting as well.
The surprising thing was that Nkurunziza accepted the invitation. There's an unwritten, but well-known rule of strong-man autocratic leadership that you never leave town when your people are out in the streets calling for you to step down.  This is especially true after your own military pointedly say they will remain neutral amid the protests.
Lo and behold, as soon as Nkurunziza landed in Dar es Salaam, Niyombare, his former intelligence chief, whom he fired back in February, pounced. He dissed and dismissed his boss and announced that he will form a "national salvation committee" to run the country.
Meanwhile East Africa's leaders released a statement condemning developments in Bujumbura.
But are they, really, that upset? No one wants to deal with another civil war in Burundi and the destabilization that would cause. The last time the country experienced an internal conflict, the crisis lasted over a decade and left 1.2 million people displaced and 300,000 dead. So the manner in which they set-up this summit is a little, well, how shall we put it, suspicious.
Or as was noted on Twitter:
And soon enough, Nkurunziza himself, may be coming to the realization that the game may have been rigged.