No, really.
Besides a weather-induced blip during the first quarter, the US economy looks good. (Weekly claims for unemployment benefits, one of the best high-frequency gauges of the US economy, continue to hover around 15-year lows.)
At the same time, the US economy is not too good. For instance, it's not good enough to make people start thinking the Federal Reserve is going to be in a rush to raise interest rates.
The result? Higher stocks. The US stock market climbed to a new record high on Thursday (May 15).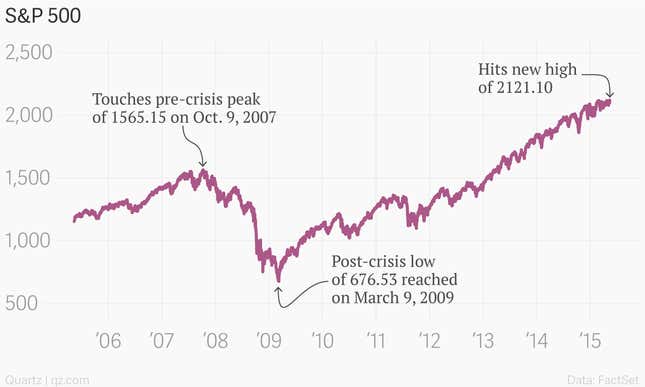 But actually, the US is kind of late to the party. European stocks have been on a record run lately. Ditto for the UK. (Brits still have to decide whether they want to be European or not.)
And while they're not at all-time peaks, Japanese and Chinese stocks have also been on a tear over the last few months.
Of course, there are plenty of problems, foremost among them China's slowdown.
But there are always problems! Who wants to think about problems all the time! Wake up, people! We've got drones delivering things! We've got Apple Watches! The future is just around the corner! We're in a new era!
Be careful.