Brazilian surfers are riding high. Last year Gabriel Medina, a native of São Paulo state just shy of his 21st birthday, became the first Brazilian to win a World Surf League (formerly ASL) Championship title. Adriano de Souza, another Brazilian surfer, leads world rankings at the moment. And just yesterday, their 20-year-old countryman Filipe Toledo, won the Oi Rio Pro and secured the second place in world rankings.
Like many Brazilian footballers, Toledo is known at home by a single nickname, "Filipinho," and like those footballers, Toledo inspires intense fervor and fandom among Brazilians who see him as a national hero.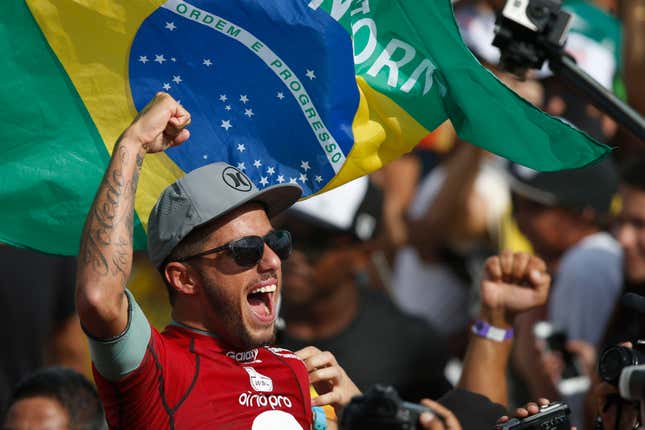 Toledo earned their adulation yesterday when he scored a perfect 10 for flawlessly landing a 360-degree aerial rotation without even grabbing his board (7:16 in the video below)—beating Australian Bede Durbidge for the trophy.
The "Brazilian Storm"
Toledo and his compatriots are part of what has been dubbed "The Brazilian Storm," a wave of world-class surfers that The New York Times' Juliana Barbassa argued is made possible by the country's growing middle-class. Despite over 4,000 miles of coastline, Barbassa wrote, a continental shelf makes Brazil's waves look puny compared to the Pacific's towering swells. That means financial support for Brazilian surfers to travel to surf hotspots—whether by their families or corporate sponsorship—is essential to developing their talent. (Toledo's family moved to the surf hotbed of San Clemente, California after he earned a spot on the World Championship Tour.)
Money troubles
But the financial groundswell that bolstered the Brazilian Storm has lost significant steam. Analysts have put a $2.1 billion price tag on the confidence-shaking bribery scandal at Brazil's state-controlled oil company, Petrobras; unemployment levels are on the rise; and some are predicting the country's worst economic contraction since 1990.
What's more, the World Cup, initially seen as a boon for Brazil's rising fortunes, had colossal costs for the country. A $550 million stadium built for the event is now being used as a parking lot. Homeless squatters occupied the locker rooms of another. And several ambitious construction projects were left unfinished.
The troublesome legacy of the World Cup puts even more pressure on the 2016 Olympics, which are just around the corner and, according to NPR, already over budget.
Crap to clean up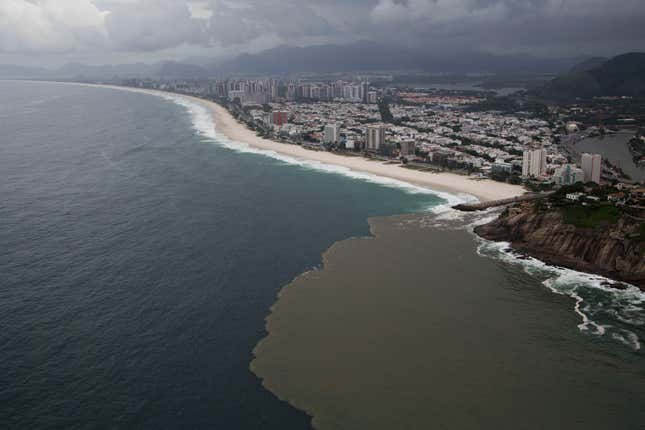 Spectacular as Rio de Janeiro's beaches may be, many are outrageously polluted. The Washington Post reports that 8,200 liters of sewage flow into Rio's Guanabara Bay, which is set to host several Olympic sailing events, each second.
Recent figures have also shown spikes in fecal coliform levels, which led officials to nix one of the backup beaches reserved for the Oi Rio Pro contest in advance (link in Portuguese).
In the end, Toledo and the other surfers paddled out in Barra da Tijuca, a wealthy neighborhood west of Rio's center, that will be home to the Olympic Village in 2016. Nearby, a sewage-polluted lagoon flows into the ocean—but that didn't appear to dampen the spirits of Filipinho or his fans.
He'll compete next in Fiji, where his countryman Gabriel Medina is the defending champ.