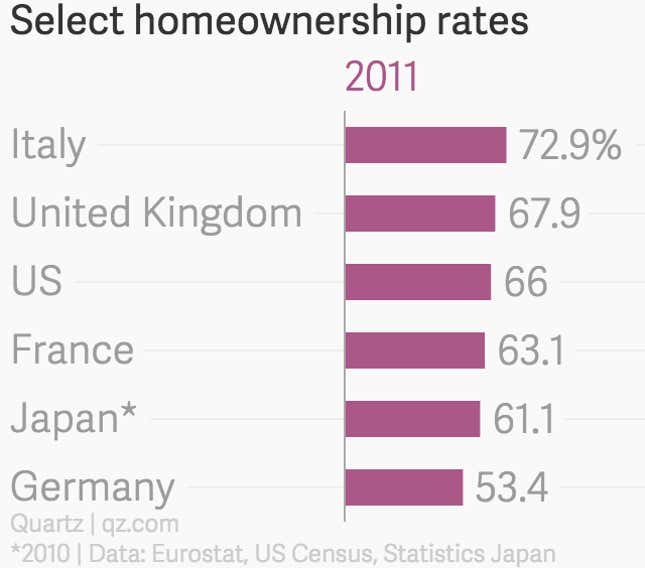 Unlike the Anglophone world, Germans don't tend to be house-crazy. In fact, among big, rich countries, Germany has some of the lowest homeownership rates going. (If you're interested, here's why.)
Residential rents in Germany are highly regulated on a system using a tool known as the "mietspiegel," or rental mirror. Essentially, this is a sort of index of local rents prepared by the local government that are supposed to serve as a guideline for market rents.
The system grew out of rental regulations put in place in the 1970s. And while there are many variations, the basic idea is that rent increases are limited to 20% within three years. Over the decades mietspiegel has grown into a cornerstone of Germany's housing market.
While a boon to renters, Germany's rental regulation has been a drag for global investors. They have become very interested in Germany's housing market over recent years, given the relatively decent returns and stability of the asset class. (The German economy is a bastion of strength in Europe.) The ironclad rental regulations have served as one disincentive against investment.
That's why a recent ruling by a lower court, overturning Berlin's mietspiegel on the basis that the index was not "created based on scientific principles" is worth paying attention to.
"While this verdict is currently only provisional, and it is from a local court, i.e. a relatively junior court, there is a possibility that it could set a precedent for further legal action by landlords to overturn other mietspiegels in the country," wrote analysts from Morgan Stanley in a recent research note. "We think this ruling could potentially imply more future rental growth for landlords," they added.
Of course, Berlin real estate likely won't become a magnet for global capital on the order of London any time soon, not least because of the political economics of the issue. The clout of the renting populace will give politicians plenty of incentives to keep rents from spiking. Indeed, recent increases in rents have already prompted conservative Angela Merkel's coalition government to back additional rental caps.
While that might be good for most Germans, it means international investors will have a while to wait before they feel there is free reign to raise German rents.