This post has been corrected.
The American pop artist Taylor Swift, wearing a beautifully cut white jumpsuit with a plunging neck and flared leg, took home the prize for top artist, among a few others, at the Billboard Music Awards on Sunday.
And Nasty Gal, a popular California-based clothing brand for unapologetically sexy, badass women, happily took the opportunity to post on its official Instagram account that Swift's outfit was the label's own Frisco Inferno jumpsuit.
https://pbs.twimg.com/media/CFXsgqVWIAA-mFN.jpg
There was one problem though, and commentators quickly pointed it out: The jumpsuit wasn't designed by Nasty Gal at all. It was a Balmain creation from the luxury label's spring-summer 2015 collection.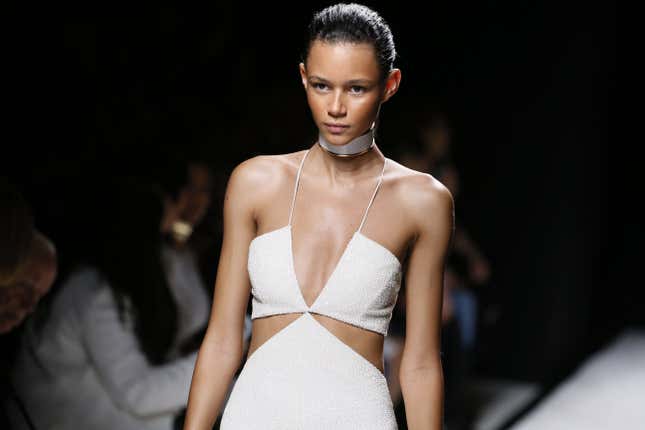 In trying to take credit for Swift's look, Nasty Gal managed to point out publicly that its knockoff of Balmain was so derivative it couldn't even tell the difference between the copy and the original.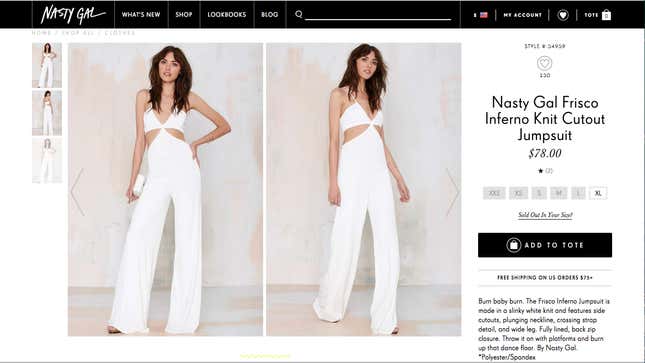 Nasty Gal promptly deleted the image, but The Fashion Law, a website that regularly calls out this sort of copying, captured it.
Quartz has reached out to Nasty Gal for comment and will update with any response.
It's no big surprise that Nasty Gal appears to have blatantly copied Balmain. Labels contend with rip-offs and outright counterfeits of their products all the time. Zara copies so frequently that fashion insiders regularly refer to the "Zéline" and "Zalenciaga" knock offs the brand does of the labels Céline and Balenciaga.
But this situation is perhaps the most publicly, and embarrassingly, a brand has ever called attention to its own copying.
Balmain's creative director, Olivier Rousteing, probably won't be too upset by it. "I think it was Coco Chanel who said, if you're original, be ready to be copied," the designer has told Vogue. "I love seeing a Zara window with my clothes mixed with Céline and Proenza!"
Correction: A previous version of this post stated that Nasty Gal posted the image on Twitter.