The markets got a little bit freaked out this afternoon about the tax-free status of Yahoo's Alibaba spinoff.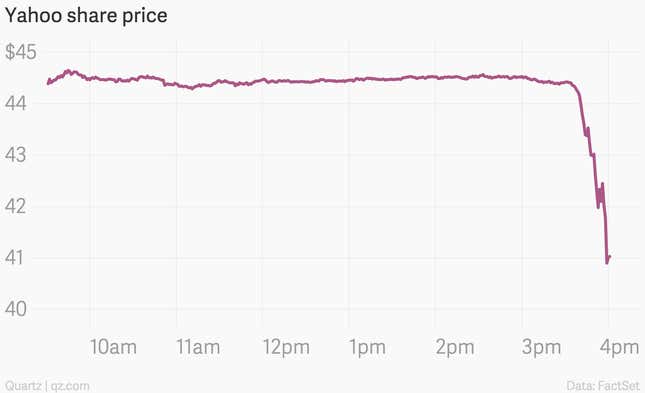 The '90s era internet giant's shares dived nearly 8% in the last few minutes of trading on Tuesday (May 19), and they haven't fully recovered in after hours trading. According to media reports and trader chatter it was a comment by a United States Internal Revenue Service official that spooked people.  Bloomberg reported from an event in DC:
Isaac Zimbalist, senior technician reviewer at the IRS's Office of Associate Chief Counsel (Corporate), said on Tuesday the government agency is considering changes to rules concerning spinoffs.
Yahoo is spinning off its remaining stake in Alibaba, the Chinese e-commerce colossus, plus an obligatory and ancillary small business unit, to its shareholders. It is a move designed to return value to investors and avoid taxes. The company has been contacted for comment by Quartz and we will update this post with any response