Chinese solar power panel maker Hanergy Thin Film Power lost an astounding $18.6 billion in market capitalization today in Hong Kong, as its chairman failed to show up at the company's annual general meeting. Investors sent the the stock plummeting 47%.
For months, analysts and journalists have publicly questioned why Hanergy's stock continued to go up, despite doubts about the company's underlying sales and unusually rich profit margins, which relied mostly on transactions between Hanergy and its mainland China-based parent company, Hanergy Holding Group.
But today's drop is still a mystery. After all, it isn't unheard of for a top executive to miss an AGM. Li Hejun—chairman of both Hangery Thin Film and its parent company—missed the meeting because he was attending the opening of a clean energy exhibition in Beijing, according to a company spokesman.
After the stock dropped, trading in the company's stock was halted at Hanergy's request at 10:40am in Hong Kong, "pending release of an announcement containing inside information." Seven hours later, that announcement still has not been made.
What is more clear is that Hanergy's mysterious one-day drop already throws the entire company's future into question. Here's who stands to lose the most:
Chairman Li, who briefly became the richest man in China thanks to the company's meteoric rise, according to Forbes, is by far its largest stockholder: As of May 11, he owned some 33 billion shares, or 80.29% of the total, according to FactSet. His losses totaled about $15 billion today.
Many of the other top investors are global fund managers. While it's not easy to determine the price at which they bought their shares, their one-day paper losses extended into the hundreds of millions of dollars as the shares fell from HK$7.37 to HK$3.91 (US$0.50).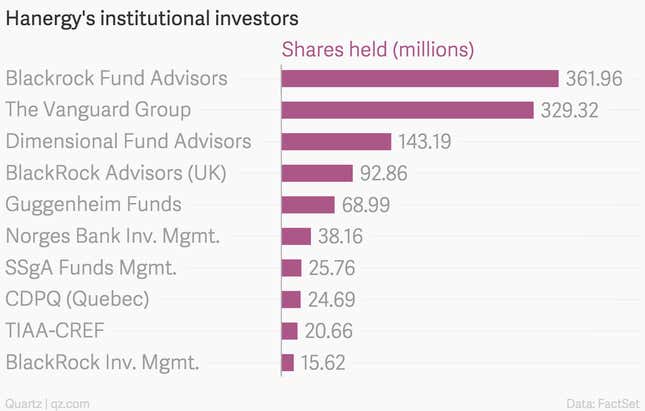 BlackRock was particularly active in the stock. The giant asset manager invested through six different subsidiaries, and owns nearly half a billion shares: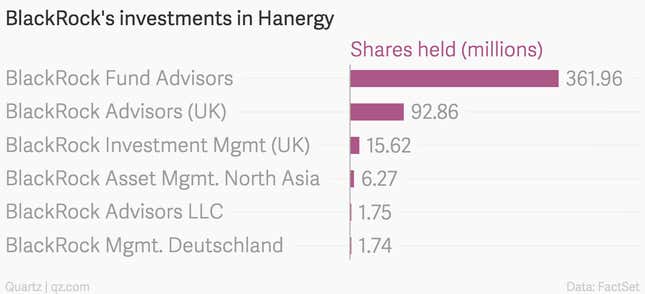 We will update with more information when Hanergy's announcement appears.