The Washington Post first pointed it out, following a tip from a reader. Something's up with Google Maps in Washington, DC. If you search for the slur, "nigger" or "nigga" in combination with "king" or "house" on Google Maps, it returns a rather shocking result: The White House.
Indeed, at the time of writing, both search combinations still pointed toward the president's residence.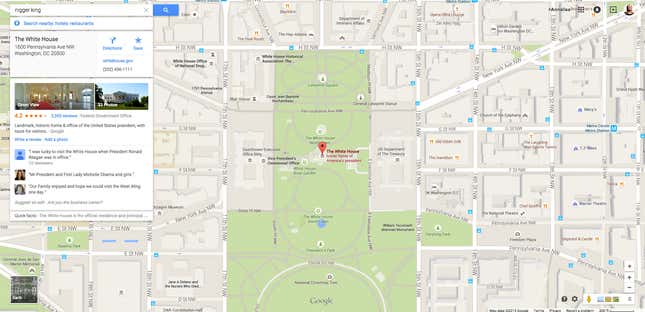 A Google spokesperson admitted to Quartz that "some inappropriate results are surfacing in Google Maps that should not be and we apologize for any offense this may have caused. Our teams are working to fix this issue quickly."
It's not clear how the bad results are finding their way on to maps. Earlier in May, Google temporarily closed its crowdsourced map system, Map Maker, which allows users to edit the maps, after it discovered some pranksters were misusing it. Though none of those acts of vandalism rose to the level of this week's racial slurs, they were nevertheless embarrassing for the search giant. Notable among them were the suspicious business, "Edward Snow Den," located inside the White House, and the image of an Android robot peeing on an Apple logo, not far from this cheeky statement: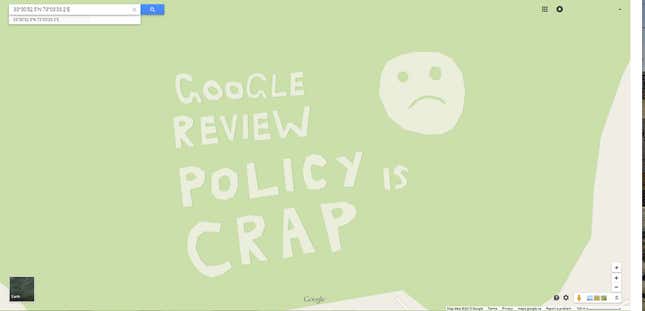 When closing Map Maker, Google noted that its reviews of user generated changes were not processed automatically, and that it found it impossible to keep up with the volume of edits submitted.
But, Map Maker may not be at fault here. Although the tool was disabled on May 12, people have been finding other occurrences, such as this result for Howard University.
And Google told Quartz that the "Map Maker shut down is unrelated to the inappropriate results surfacing on Maps at the moment."
This is not the first time search results in Google end up where they shouldn't, nor the first time the target is a president. "Google bombs" or "Googlewashing," a technique that used search engine optimization techniques to trick the algorithm into showing the wrong results date back to 1999, when a search for Satan would show Microsoft's website as the first result. Google bombs have been particularly popular during political campaigns, from the infamous "miserable failure" to the "completely wrong" image search. Sometimes, they offer humorous results. (See "Chuck Norris," "Scientology," and "French military victories.")
Every year, Google receives thousands of requests from governments and users worldwide related to removal of content—about half of which ask it to delete search results.