This post has been updated.
As any fan of HBO's Game of Thrones knows, the three-eyed raven is a mysterious and powerful creature, appearing in dreams and real life alike, guiding the young, crippled Bran Stark into the crypts of Winterfell, and even into the haunted forests beyond The Wall.
The three-eyed raven is now also the subject of a trademark dispute. Last June, HBO filed an application with the US Patent and Trademark Office for a trademark on "THREE-EYED RAVEN," stating its intention to use it with alcoholic beverages, energy drinks, carbonated beverages, mixers and fruit drinks.
Last month, just in time for the cable show's new season, Ommegang Brewery in Cooperstown, New York, began selling its limited edition HBO-endorsed Three-Eyed Raven Dark Saison Ale, which it describes as having a "light, malty body with a hint of sweetness, and roast accentuated by herbal and spicy hops." It marked the brewery's fifth Game of Thrones-inspired beer offering. Reviewers responded positively, with Paste Magazine calling it an "intriguing, unique effort," and BeerAdvocate.com giving it a score of 87 out of 100.
But not everyone is a fan: Franciscan Vineyards of Napa Valley, California, which owns the trademarks used by Ravenswood Winery, filed an opposition to HBO's trademark earlier this month, claiming it would confuse consumers, and that HBO's application was fraudulent because it "had no good faith bona fide intent to use" the three-eyed raven trademark. Franciscan Vineyards owns trademarks for Ravenswood, Ravens, and a drawing of three ravens, often found on the Ravenswood wine bottles.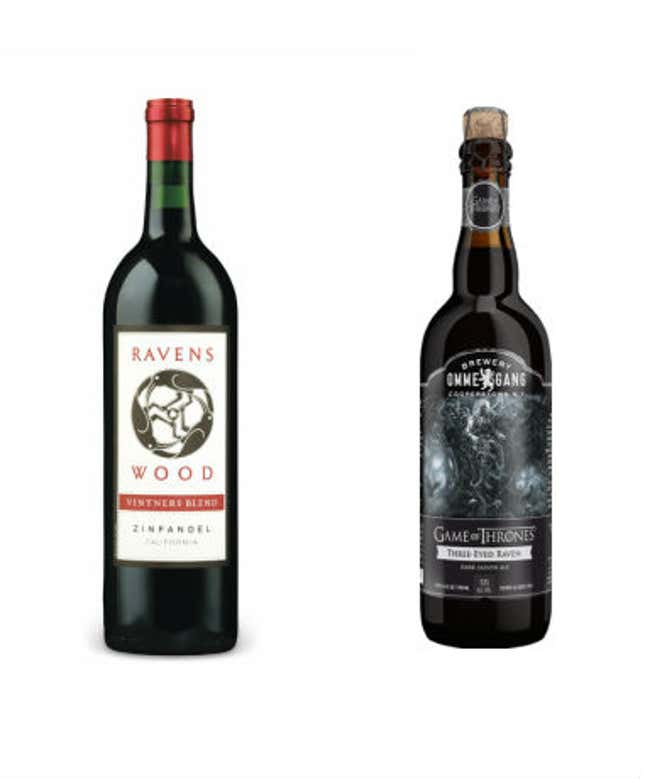 Franciscan Vineyards told Quartz it is its policy not to comment on any litigation. Ommegang Brewery told Quartz it had no comment. HBO did not respond to request for comment. This post will be updated with any response.
The winery is arguing that HBO's trademark "would effectively infringe" upon its own, says Lindsey A. Zahn, an alcohol beverage and food attorney in New York, and the author of On Reserve: A Wine Law Blog. But she called the suit "kind of a stretch," adding that the winery filed a "very skeletal opposition," without much supporting detail. The fraud and "no bona fide intent to use" arguments are "not grounded," she says. After all, the Three-Eyed Raven beer is already being sold. 
HBO hasn't responded to the suit yet—it has 40 days from the filing to do so—but if you're looking to try out this controversial brew, act fast: it's a limited edition.