Portland, Oregon is known for its coffee, its hipsters,  generally being a nice place, and, umm, the comedy series Portlandia.
But it's also becoming known as an alternative commuter's paradise (and not just because of events like the Next Big Ride, where thousands of people cycle around the city naked).
According to a new study by Michal Sivak, director of the University of Michigan's Transportation Research Institute, of the 30 biggest cities in the US,  Portland and its hipster peer, Austin, Texas, have the highest proportion of workers who don't commute at all.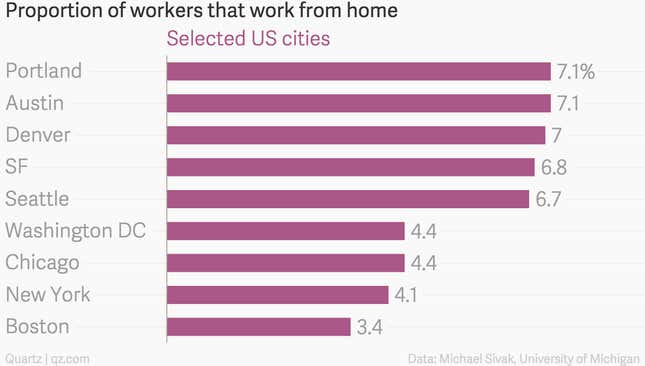 Unsurprising to anyone who has ever visited, Portland also has a higher proportion of people that commute to work on a bicycle.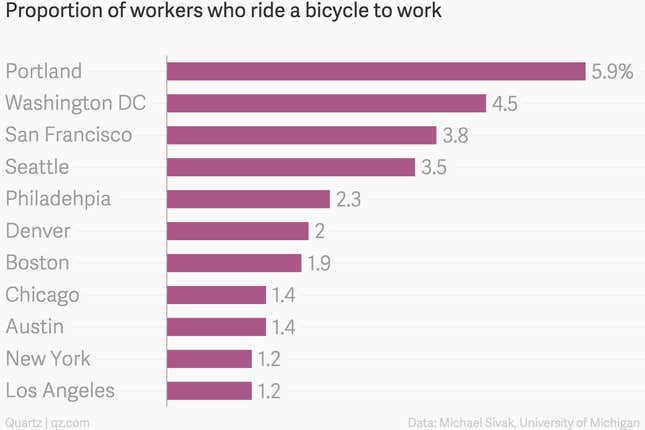 The Pacific Northwestern enclave is also in the top 10 cities for using public transport (the city is known for its excellent light rail and streetcar systems) and walking to work. Conversely, it's in the bottom 10 cities for driving to work alone—which is still the way most Americans (76.4% of them, according to this study) get to work.