Apple Watch pre-orders started with a bang and Apple's initial inventory quickly sold out. Then US orders immediately fell, and have remained mostly flat since, according to analysis from Slice Intelligence, a company that tracks US consumer spending through e-commerce email receipts.
Apple has taken orders for almost 2.5 million watches in the US through Monday, May 18, according to Slice's projections, which are based on more than 14,000 online shoppers. More than half of those orders were placed on April 10, the first day Apple accepted watch pre-orders in the US and eight other countries, according to Slice.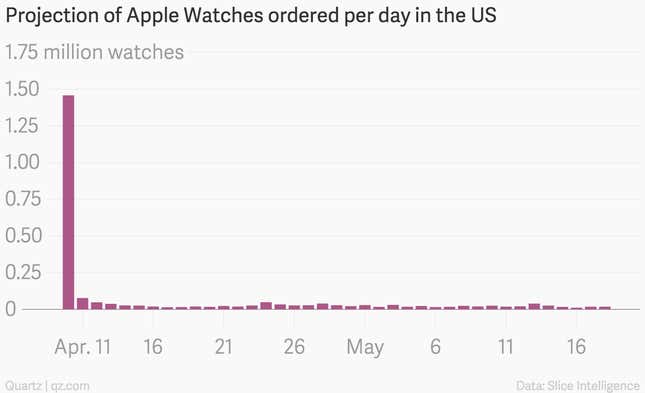 Since the first day—which we've excluded from this next chart to focus on detail—US orders have generally remained under 30,000 per day, according to Slice's projections. Note the spike on April 24, the day US pre-orders started arriving—and when people started posting their initial Apple Watch experiences and real-life photos.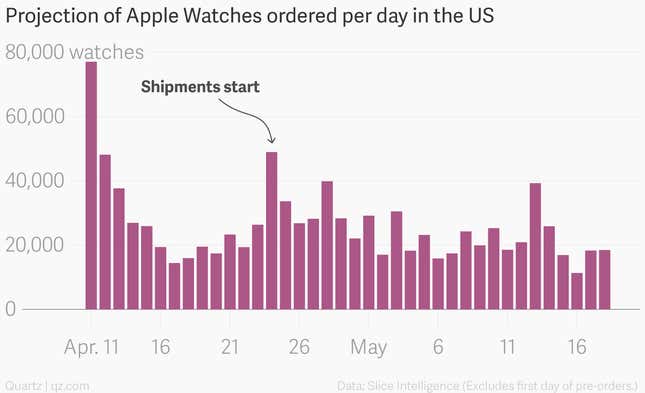 To be sure, it's still early days for the Apple Watch and the broader wearable-gadgets market. It took Apple more than two years to sell 2 million iPods, and several months to sell that many iPhones. And, to reiterate: This is a projection based on one company's data in one country. Apple did not immediately respond to a request for comment on its accuracy.
Bigger picture, the Watch is still figuring out its purpose. Most early adopters seem to like it so far, but it's hardly a must-have device yet. And it seems the sort of gadget that will be most popular around the holidays, much like Apple's other consumer devices.
One Wall Street analyst, Morgan Stanley's Katy Huberty, recently increased her projection of first-year global Apple Watch shipments to 36 million, based on survey results showing increased purchase intentions among US consumers. A second firm, however, just reportedly decreased its estimates to less than 15 million watches, based on weak demand. To reach 36 million shipments, Apple would need to average almost 100,000 per day worldwide.
One big question is how Apple Watch sales will change once people are able to simply walk into an Apple Store, try one on, and buy it. That hasn't happened yet. Apple's online store is still showing several-week backorders for common configurations, and its retail stores do not yet have inventory.