Bill Murray is coming to Netflix.
Well, the beloved comedian is already on Netflix (some of his movies, including the classic Groundhog Day, are already on there) but Murray is poised to appear in an exclusive Christmas special for the streaming video service.
A Very Murray Christmas is being co-written and directed by Sofia Coppola, who also famously directed Murray in Lost in Translation, which gleaned the actor an Oscar nomination (and somehow, in a crime against good taste, did not win).
Check out this teaser for the special, which surfaced today on YouTube.
Murray actually revealed more details about it in this farewell interview with David Letterman earlier this week. He mentioned that Jason Schwartzmann and Rashida Jones are among the actors that will also star.
In any case, A Very Murray Christmas is yet another sign of how Netflix is transforming itself into a destination for must-watch, buzzy original content. Its content boss, Ted Sarandos, has said the company's long-term aim is to launch 20 scripted series a year.
Here, courtesy of RBC Capital Markets, is a list of the more prominent original shows it has commissioned: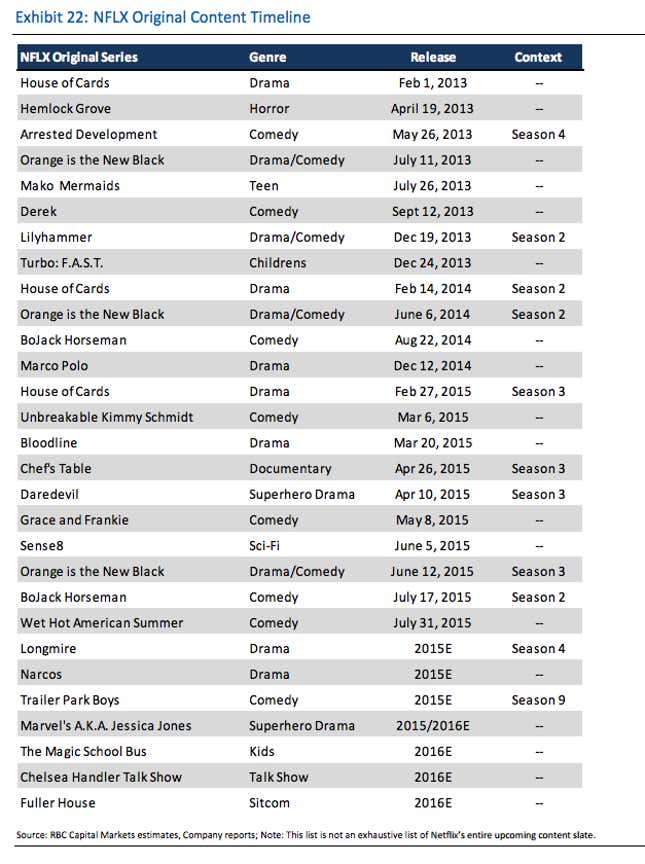 Although making original shows is expensive, investors are utterly besotted with this strategy. Netflix is the best performing stock in the S&P500 this year, rising more than 80%, compared with a 3% rise for the broader market.