Let the tea-leaf reading begin.
Uber, the app enabled ride-sharing/hailing company, is negotiating with banks over a $1 billion credit line, reports the Wall Street Journal (paywall), which tends to follow these things closely. Uber declined to comment.
Now, a revolving credit facility—it's like a giant credit card for corporations—is not the type of thing normal people get excited about. But this is the one of the ducks companies typically get in a row before they go public. Facebook and Twitter took similar steps  in the run up to their IPOs. (On the other hand, Spotify was reportedly in talks about a similar credit line last year and it hasn't gone public yet).
But the general idea is that investment banks are keen to offer such credit lines to private companies in the hope that it puts the banks in a preferred position to act as underwriters in any ensuing IPO.
Now, it's unclear exactly what Uber would do with access to another billion. It doesn't seem to need the cash. The fast growing company has already raised a ridiculous amount of capital from private investors in recent months. And at this point the company seems to be simply raising money because it can do so on very favorable terms.
In a story earlier this month, the New York Times (paywall) described Uber's latest funding round—reportedly $1.5 billion—as happening primarily due to an "overwhelming amount of investor interest" in the company, rather than a need for capital. (Although since then, Uber has been linked to a bid for Nokia's maps business, which could eat up at least some cash.)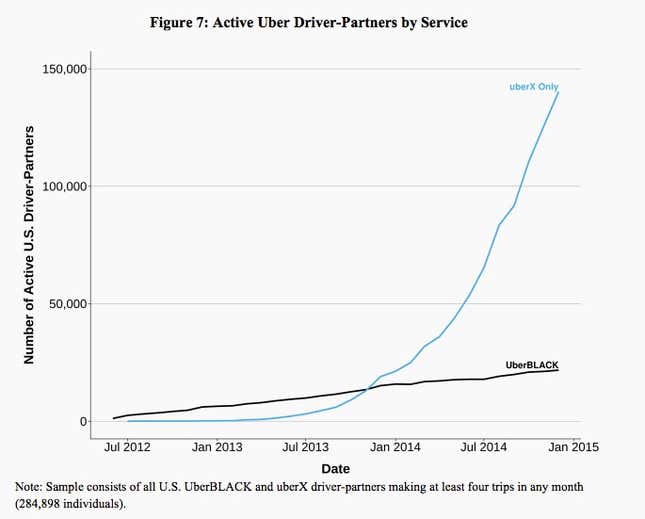 Anyway, the company's effortless ability to raise capital from private investors has led some observers to question why Uber would ever bother going public. But as Matt Levine  pointed out earlier this year, the point of an IPO wouldn't be to raise money, it would be to allow early investors—which include traditional venture capital funds, corporate venture capital funds (like Google Ventures), mutual funds and sovereign wealth funds—an ability to cash out.
Companies issue stock in IPOs because it looks weird not to, but the goal is never to flood the market with as much new stock as it will absorb. The goal is to bring in new money to buy existing shares, so that the people who own those existing shares get rich.
And then there's the need to keep employees happy. (They would also benefit from a public offering.) All that suggests that an IPO is likely on the cards. We just don't know when. For what its worth, the Journal's sources seem to think it won't be until next year at the earliest.
One thing is at least clear: Since Uber is the most highly valued startup on the planet right now, when an IPO does happen, it will be a very big deal.