Pope Francis has brought the Vatican Bank back to life.
Profits have skyrocketed at the overseer of the Vatican's vast finances, as the holy bank recovers from a series of financial scandals that spurred a complete overhaul of the bank.
Formally known as the Institute for the Works of Religion, the bank oversees more than €6 billion  ($6.5 billion) of assets from Catholic institutions, employees and pensioners of the Vatican, and other purveyors of charitable works. It said Monday (May 25) its net profit shot up to €69 million ($76 million) in 2014 from just €2.9 million ($3.2 million) the year before.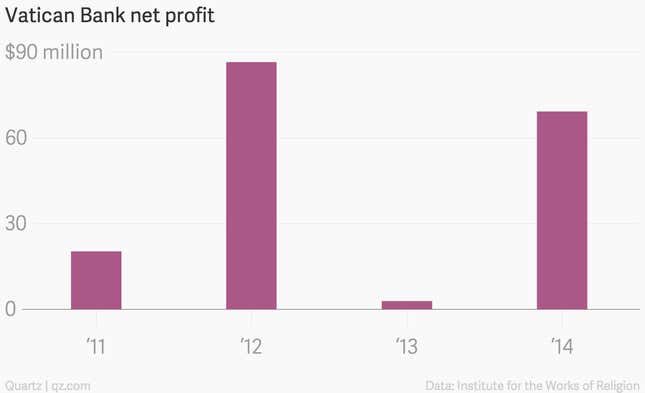 The profits mark a turning point for the beleaguered bank.
When Pope Francis took over leadership of the bank (which is run by 6 cardinals and other governing board members that report to the Pope), it was beset by a series of scandals that included money laundering, fraud, and criminal activity involving major Italian companies, and resulted in the resignation of the bank's director and other top officials. While many Vatican leaders have attempted to right the financial ship over the years, Francis has proved the most aggressive.
Under his leadership, the bank has restructured the financial office. It named new directors and began implementing new international accounting standards. It tightened criteria around who could use the bank, shutting down shady accounts and screening the people it served to comply with global anti-money laundering policies.
While the Pope finally seems to be getting the Vatican's financial house in order, it'll be up to his holiness to keep the efforts toward more accountability, honesty, and transparency in high gear.