HBO has long argued that the quality of its content, which includes shows like Game of Thrones, True Detective, and Veep, is unmatched by its rivals. To that end, it put a premium price on its new online streaming service, HBO Now: $15 per month, about double the price of Netflix.
But it seems like HBO already may be considering a change. First spotted by Cut Cable Today, HBO is asking customers who opted out of signing up for the service after their free trial ended to take a survey about whether a different pricing structure might lure them back: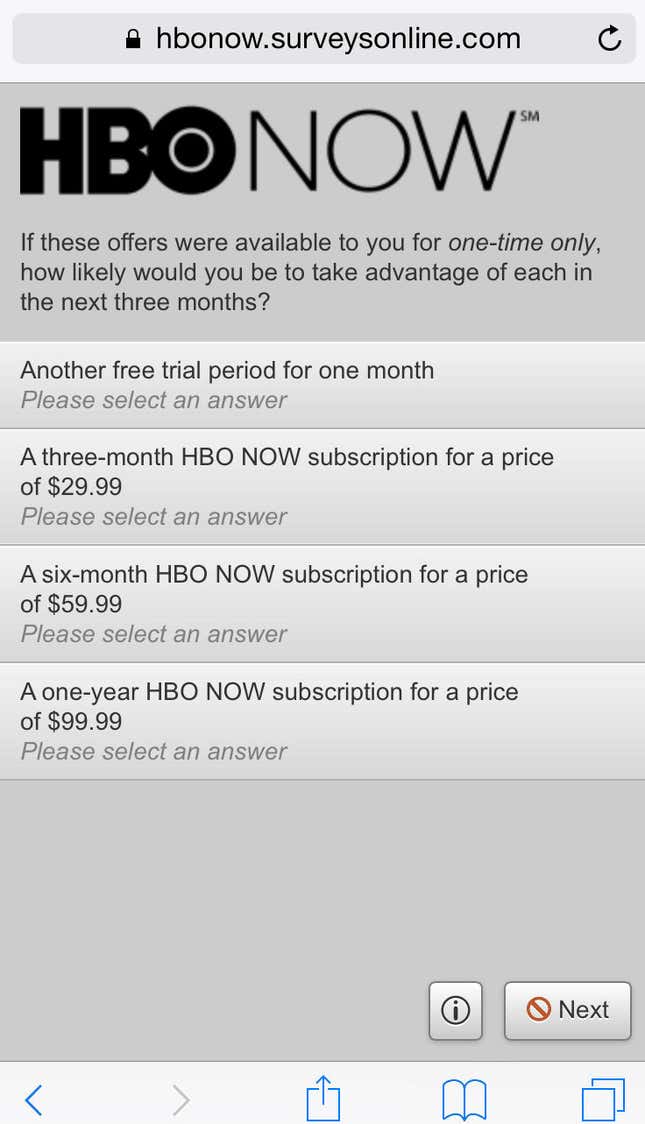 The first two options are the equivalent of $10 a month, while the third option—$100 for a yearly subscription—would be the same as Amazon Prime (which includes access to Amazon's Netflix-like streaming video service Instant Video) and would work out to nearly the same as Netflix on a per-month basis.
The survey is, of course, merely meant to gauge public opinion, and shouldn't be taken as definitive proof of HBO's plans. (An HBO spokesperson tells Quartz, "HBO Research conducts surveys all the time on a wide range of topics. The questions should never be interpreted as suggesting a strategic direction.") But HBO brass have claimed to be flexible, and the survey is further evidence that the company is serious about that.
In addition to Now's pricing, HBO will, at some point, need to figure out what to do with its budding sister channel Cinemax. An HBO spokesman told Quartz in March that the company had no plans to offer an equivalent Cinemax service (or to fold Cinemax shows, like the criminally under-appreciated The Knick, into HBO Now), but left the door open to doing so down the road.
Should HBO begin offering pricing tiers, it might be a good opportunity for it to leverage Cinemax into reeling in more subscribers to the service. Shows like The Knick don't have nearly the popularity or the value of something like Game of Thrones, but together, Cinemax's growing slate of original series—plus its catalog of hundreds of popular movies—might be a legitimate hook for consumers who are on the fence.
For instance, the hypothetical $99 yearly subscription could come with access to Cinemax shows. Call it an extra gift for agreeing to be an HBO customer for 12 months, instead of on a month-to-month basis.
HBO hasn't disclosed how many people have signed up for HBO Now in the streaming service's first month-and-a-half of existence. Apple CEO Tim Cook said HBO Now is "extremely popular" in the Apple app store, but provided no data to support that assertion. HBO was originally targeting the roughly 10 million people in the US who pay for internet, but not cable TV.
A reduction in price for HBO Now wouldn't signal that HBO executives are wrong about their content—the high opinion they have of their shows is corroborated by the network's considerable awards prowess and its soaring torrent problem, among other measures.
It would, however, say something about how much consumers are willing to pay for it.