The wearable camera company GoPro announced at Google's I/O conference today that it will develop a multi-camera array that can shoot immersive virtual reality video, with the help of Google Jump, Google's new virtual reality system.
GoPro's camera array—which it doesn't yet have a name for—will contain 16 Hero4 cameras strung together to act as one. The array will be able to shoot 360-degree HD video from all its cameras at once.
This is not going to be like the Google Glass Explorer program, where Google took applications from members of the public to purchase its device. Rather than letting anyone do what they will with with the technology, Google will control the experience, most likely from its YouTube studio in Los Angeles.
The system will be available in July, and exclusively for six months, to a select few content creators handpicked by Google. The company is still figuring out who the content creators getting the camera setup will be, a Google representative told Quartz. Certain YouTube stars and celebrities are likely to be chosen, with the first 360-degree video in the partnership coming from the pop song remixer Avicii.
According to Google, Jump will be the catchall term for its 360-degree video offering, which will include GoPro's camera array, a rendering engine and a virtual reality video player, which will be compatible with Google Cardboard, the company's virtual reality viewer.
Jump will work a bit like Google+'s "Auto-awesome" photo enhancement feature—users will upload their footage from the GoPro array, and Jump will stitch the video together to create a "spherical" video, which the company described as similar to a 360-degree virtual reality video, but with the depth of field of a 3D video.
"The array solves the many challenges that the pro community faces when it comes to capturing panoramic content," GoPro said in a statement. "Google and GoPro's integrated solution will help to eliminate some of their biggest pain points: camera syncing and high speed connectivity are two of the biggest."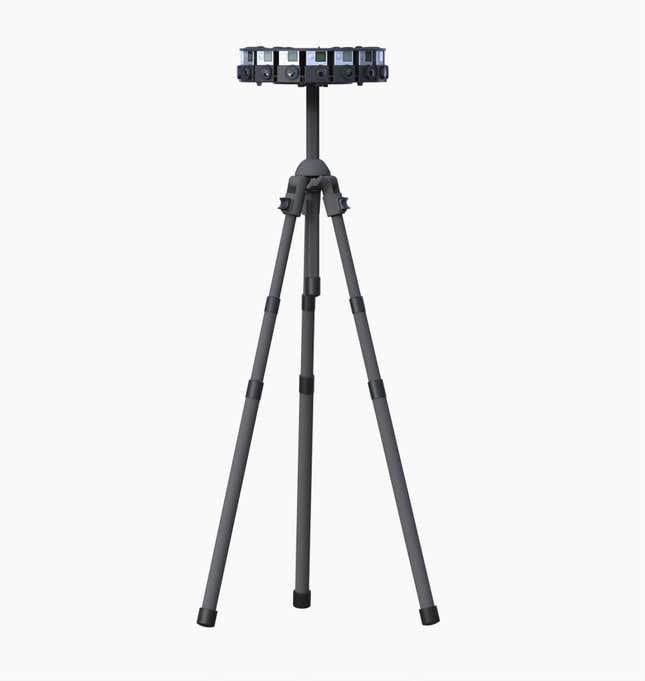 GoPro's UFO-shaped array will be mountable on a tripod or a large drone, the company told Quartz—which would presumably put DJI's virtual reality drone setup to shame. (GoPro is apparently also working on its own drone.) GoPro hasn't announced a price for the array, but said it will be a "pro solution" level device. GoPro also released an interactive video showing off its new camera array that involves cars drifting dizzyingly around.
While virtual reality is still very much in its infancy, GoPro's move into the space seems a logical one. The company is trying to position itself as a media company at the forefront of the extreme video market. It currently sells a four-camera array and recently acquired Kolor, a French company whose technology stitches videos into 360-degree videos. Pile that on top of deals with the NHL and the X-Games, as well as a channel on Roku.
After the exclusivity deal with Google ends, GoPro will likely offer its array to other partners, such as Facebook and Microsoft, which have the Oculus Rift and HoloLens virtual reality headsets, respectively, in development.