Last summer, I did something that many of us dream about, but which few people actually do: I quit my job, left home for a while, and took some much-needed time to sort out my life. For five weeks, I backpacked through the Rocky Mountains, walking off a lingering grief over my mother's death and pondering what I wanted next. By the end of the summer, the emotional fog that had been shrouding my life had lifted, and I felt like a different person: energized, confident, and ready to take on the world. It was intoxicating.
One evening after I returned home to Wyoming, a friend told me she felt disillusioned and burnt out, much as I had felt a few months earlier. "I would love to leave everything and go on an adventure like you did," she said wistfully. "But I could never do that. Work is too demanding, and I have too many responsibilities at home."
Don't we all.
A few years ago, I was in the same boat. I had a house, a pet, and a high-powered job reporting and anchoring for Wyoming's NPR station. Work kept me in the office on many holidays, and I was lucky to get away for two weeks of vacation, let alone two months. So when the notion of a long-distance backpacking trip first inched its way into my mind, it didn't seem possible.
And yet, the idea wouldn't let go.
For years, I'd felt empty and untethered. I had plenty of friends, a caring significant other, and a well-respected and meaningful job. But my life was passionless. As if on autopilot, I was pursuing a career that had seemed exciting years earlier but which now left me feeling tired and hollow. And while I made time for fun, the things that truly filled me up inside—activities that took me outdoors to the lakes and mountains—were always relegated to the sidelines. I'd squeeze in a quick lap on the cross-country ski trails before heading to the office, or hurry to complete an evening bike ride before dark. But work always took precedence over play.
Like many Americans, I led two separate lives: the life that paid my bills and earned me professional respect; and the life that nourished me emotionally. The wall between the two seemed impenetrable, and I resented it.
When I was little, my mother gave me a framed picture of a teddy bear blissfully reading a book. "Do what you love; love what you do," the caption instructed.
I desperately wanted to follow that advice—wanted to build a life in which the things I loved most didn't have to take a backseat to my job. And I sensed that escaping to the wilderness might give me the mental space to figure out how to create such a life.
But escaping to the wilderness was no easy proposition. First off, I'd have to leave my job. I'd be giving up a respected position with a stable income and wonderful colleagues, a position I'd worked hard to get. I knew I would miss the minor celebrity status I'd gained as a news anchor. And quitting without lining up anything for afterwards seemed foolhardy. I'd watched plenty of talented friends struggle to find work in recent years, and family members warned that a gap in my resume could be a red flag to future employers.
There were other concerns, too. Would wandering through the woods actually afford me the clarity I craved? Would it be possible to design a life where work and play were one in the same? And, most worrisome, what could I do with my cat while I was out "finding myself"?
At first, these hurdles seemed insurmountable. For months, I vacillated, paralyzed by the fear of leaving behind my neatly organized existence. And yet, I knew that in order to build a life that would make me whole, I needed to break away from the life that wasn't filling me up, needed to uproot myself. As Alfred Tennyson put it, "The shell must break before the bird can fly."
And so, I finally put in my notice at work. I explained to my boss that I was leaving in order to thru-hike the Colorado Trail, a long-distance footpath through the Rockies.
He gave me a long stare. "So you're leaving us to take a walk in the woods?" he asked quizzically. Usually, when reporters left, it was to take more prestigious public radio jobs in bigger markets.
"Um…yes," I said.
My boss asked what I planned to do after my "stroll."
"I don't know," I said. "I'm going to try to figure that out on the trail."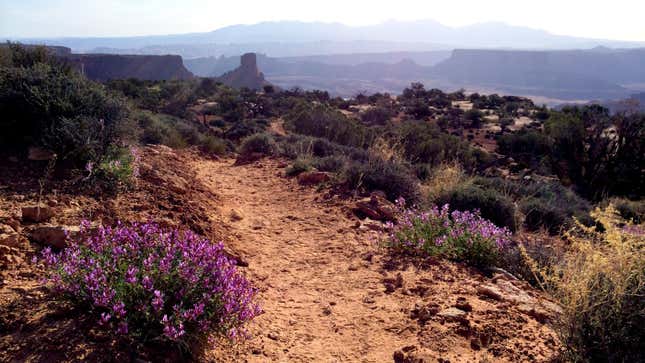 That first step—resolving to leave my job—was the hardest part. After that, I kicked into high gear. I read up on long-distance backpacking, put together a strict budget for myself, searched for—and finally found—someone to cat-sit for the summer, assembled the gear I would need, and went on long training hikes.
On a hot July morning, I set off from a dusty trailhead just outside Denver. I had 500 miles of hiking ahead of me—500 miles in which to figure out what my dreams were.
As it turned out, the trail did not offer up many profound realizations. But it did leave me feeling calm, capable, and refreshed. And in the weeks after I returned home, ideas about a new career started to take shape.
Wyoming Public Radio approached me about developing and hosting a new radio show about the outdoors. The program would explore our relationship with nature, with poignant personal stories that tackled big social and environmental questions. It seemed like the perfect job: something that would combine my skills in journalism with my passion for the wild.
The idea wasn't new; I'd been considering producing an outdoor-themed podcast since before my hike. While holding down a full-time job, I didn't have the time or the guts to pursue the idea. But now, there was no "real job" holding me back, and the Colorado Trail had imbued me with a tremendous sense of optimism. I felt confident that I could make a go of this, and I was finally willing to take a big risk in order to pursue a career that excited me.
Ultimately, it didn't work out with the radio station, so I returned to my original idea of producing the show independently, as a podcast. I bought recording equipment, enrolled in classes on podcasting, scheduled interviews, and lined up a composer to write theme music. I read up on intellectual property law and met with the local small business development center.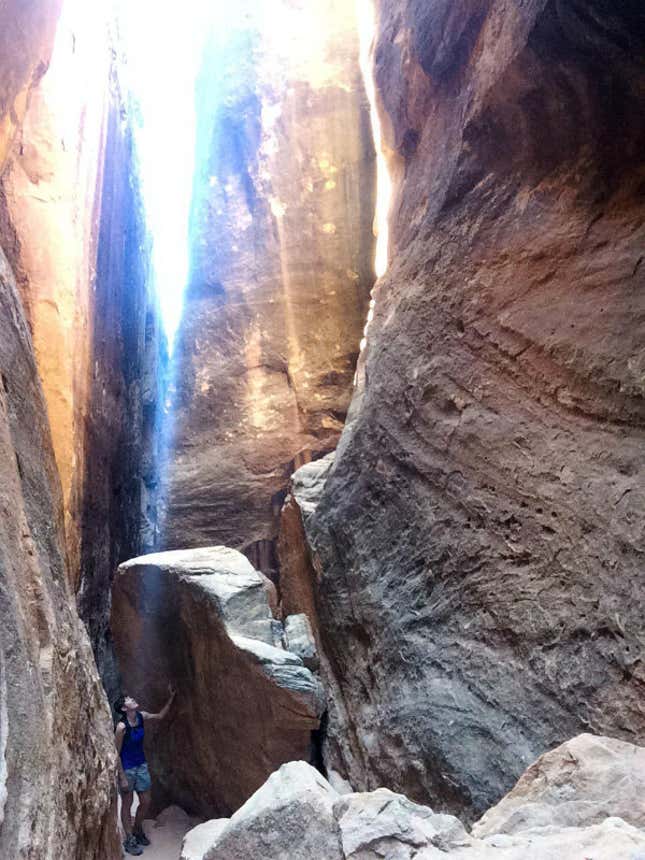 Finally, on March 10, I released the first episode of my new show "Out There." I'd poured months of work into it, and seeing the podcast appear in iTunes was thrilling.
But I was nervous too. Would anyone listen? I sat anxiously at my computer late into the night, my eyes glued to the download stats.
To my delight, listenership grew quickly. Two weeks after launching the show, I had listeners in all 50 states, and the podcast quickly climbed to the top of several "new and noteworthy" lists in iTunes.
That's not to say that it's smooth sailing. I'm working a part-time "day job" and taking on freelance work to make ends meet, so workdays are often brutally long. Plus, there's a daily dose of skepticism, which can be tough to swallow.
"I've started a podcast," I announce proudly, when someone asks what I'm up to.
This is usually followed by an awkward silence.
"It's about the outdoors," I add.
There's another pause.
Then, often: "What's a podcast?"
Others respond with a simple, "Oh,"in a tone that says, "What's your real job?" You can tell what they're thinking: 'She left a job with an NPR station for this?!'
It's too soon to tell whether my new venture will be profitable. But if it succeeds, it will offer me the balance I crave in life.
Already, the barrier between work and fun is disintegrating. In April, I found myself with several days free, so I packed up my mountain bike and drove to Utah. For four days, I hiked and cycled through the magnificent red rock formations of Moab. I camped in a canyon by the banks of the Colorado River, ate lunch atop soaring cliffs, and curled up in my tent with a good novel at night. I was doing what I loved most—recharging my mental batteries in the beautiful outdoors.
But this was different than previous camping trips. This time, I was also working: planning out a podcast episode about vacationing alone. Every so often, I'd pause to record something or jot down an idea. As I hiked, I mentally mapped out my story, a grin spreading across my face.
Finally, this was work that sent a tingle of excitement through my limbs. Work that made me smile from ear to ear. Work that was exhilarating. Work that didn't feel like work.