This post has been corrected.
Uber is the world's most highly capitalized startup, according The Wall Street Journal. Offering a ride-sharing app that perturbs many a taxi regulator, the fast-growing venture is eyeing a $50 billion valuation. And if all goes according to plan, thousands of its employees will work in this new headquarters building in San Francisco by late 2017 or early 2018.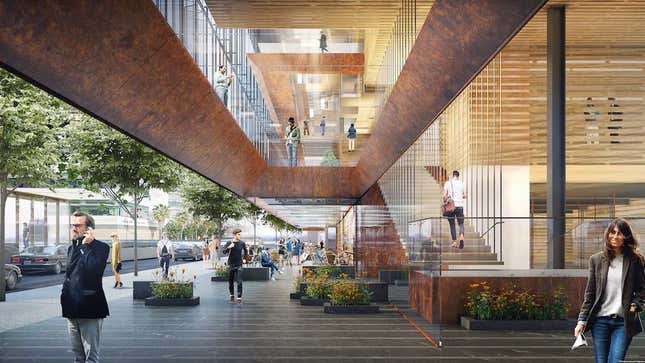 The new headquarters will be set on a site once owned by Salesforce, and will consist of a six-story building (at 1515 Third Street) and an 11-story one (at 1455 Third Street), according to Curbed San Francisco. The futuristic buildings will feature many glass walls, including on large gathering spaces and for three bridges connecting the buildings. The architecture firm behind the design, New York-based Shop Architects PC, is also refurbishing a nearby park on Pierpont Lane, where a new daycare center will located.
The new building will be Uber's eighth move since its founding in 2009, according to SFGate, and will effectively triple the company's footprint in San Francisco, home to its current headquarters on Market Street. Uber is expected to hit an annual revenue run rate of $10 billion by the end of 2015, but the company has yet to turn a profit, because of heavy spending on everything from marketing to staffing to new headquarters.
The site is located in the city's Mission Bay, an area that the city has been building up as a biotech hub, but has lately attracted a slew of technology and other high-profile companies. Many Uber employees, presumably, will also choose to live there.
"These kinds of companies express more and more interest in building campuses in San Francisco's urban core," a real estate developer told SFGate.
For employees who don't want to live in the neighborhood, and would rather not deal with the area's congested highways, whether they're driving or being driven, there's always public transportation: a Caltrain station is a convenient 13-minute walk away.
Correction (May 28): An earlier version of this article incorrectly described the Mission Bay neighborhood.