This question originally appeared on Quora (@Quora): I'm hearing a lot of people, some that I respect, say that the tech bubble is going to burst soon. Are we even actually in a bubble? Answer by Paul Cohn.
I firmly believe that we are in a tech bubble but not like the dotcom tech bubble.  I don't know when it is going to burst.  It could be years.  The bubble always bursts.  We constantly repeat cycles even when there is an argument for a structural change that will sustain crazy valuations.
During the dotcom the structural change was the internet.  Crazy valuations and unprofitable business models were justified by the new business models made possible by the internet.  Millions/billions of new eyeballs in a new delivery channel for product and advertising.
But at the end of the day, businesses valuations come down to profitability and growth metrics.  If you can sustain very high and profitable growth then you get a premium valuation multiple if the growth slows or you can't move into an attractively profitable company then your valuation is punished.
Unlike the dotcom bubble where much of the value was in public stocks when the bubble burst, this time around we have built much of the unsustainable value in private company stock – the "Unicorns" that boast valuations in excess of $1 billion.  I'm not a public stock analyst but overall stocks are not trading at outrageous P/E ratios.  Unicorns are.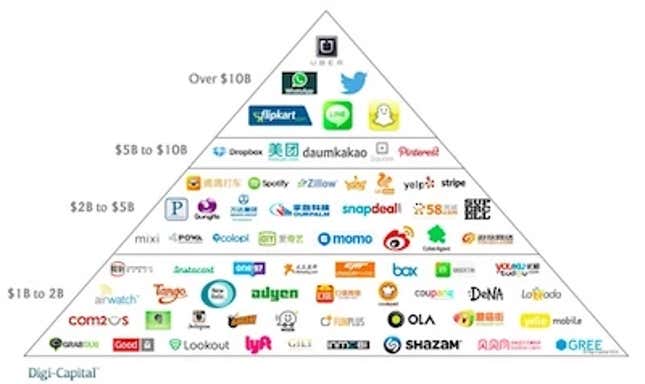 At some point the Unicorns need to go public to provide their investors with a return on their investment.  Some could be sold but at a certain valuation this becomes difficult.  The Unicorns are growing their top lines very aggressively which is a positive.  They are raising and burning a lot of money to do this.  They ultimately will need to show a path to baseline profitability with attractive margins to justify their valuation. I'm skeptical that a lot will be able to do this.
The bubble will burst when some Unicorns are rebuffed by the public market or go public at valuations that are lower than their last round of private valuation.  Unlike the internet bubble, I think that most of the carnage may be felt in the private markets as valuations are adjusted downward. Like the dotcom bubble bursting this will lead to many Unicorns and other private companies shutting their doors as they won't be able to raise more capital with their bloated capital structure and their huge infrastructure.  The more nimble companies that can cut costs rapidly to get at or near profitability will survive but many will not.
But…I (through my firm) recently made a bet on a firm that backs a number of Unicorns.  Why, because I don't know when the bubble will burst and some of the Unicorns will go public and survive and provide great returns to investors.  We also have a portfolio of more value based investments so all of our eggs aren't in one basket.
The tech bubble will burst.  I think it is somewhat protected in the near term because the bubble hasn't spilled into the public markets in a material way. But it will burst – that's what bubbles do.
For more from Quora:
What are reasons why an engineer should prefer consumer startups or enterprise startups?
Why do I always feel like I'm too late for all the startup trends? How can I be at the front of the trends, executing?
Business Ideas: What are the best ways to think of ideas for a startup?