Google and Levi's are teaming up to create interactive clothing.
At Google's developer conference today, the Mountain View, California company showed off Project Jacquard, an experimental program within Google's Advanced Technology and Projects unit that has developed conductive yarn with textile makers in Japan.
Because this material can be woven into any fabric, it has the potential to transform clothing into interactive surfaces. On-site demos here showed how tapping or swiping a patch of yarn woven into fabric can control Philips Hue light bulbs or the music playing on a smartphone, and there's potential for many other uses.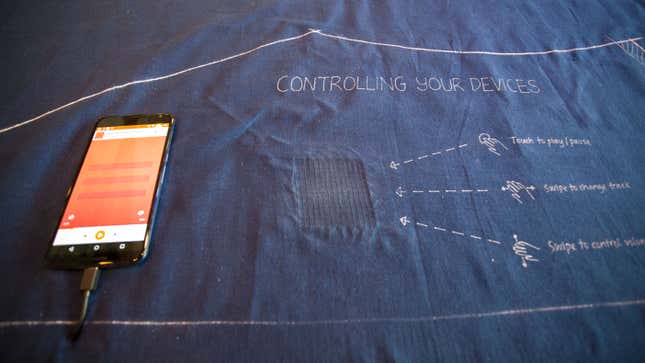 "This is science fiction," said Paul Dillinger, Levi's vice president of innovation. "And as a fashion designer, it's not really a project that I'm entirely equipped to take on."
Conductive fabric has been around for decades, but this partnership with Google will represent one of the first major forays for the technology into the mass market. Neither company has revealed details on exactly what product they'll make, (though jeans seem the most likely candidate), what the high-tech clothing will be able to do, or when it will be released.
However, like the Apple Watch and Google Glass, the goal of connected jeans, they say, is to aid people in their daily lives, without making the technology overbearing.
"If there's a chance to enable the clothes that we already love to help us facilitate access to the best and most necessary of this digital world—while maintaining eye contact with the person we are eating dinner with—this is real value," says Dillinger.