China is publicly deploying its cyber police to "purify the internet" of illegal and harmful information. According to China's ministry of public security this weekend, "internet police" from 50 Chinese cities and locales are opening accounts on various Chinese social media platforms where they will openly patrol the internet for cyber crimes (link in Chinese) from defamation and gambling and selling drugs, to "picking quarrels and provoking trouble."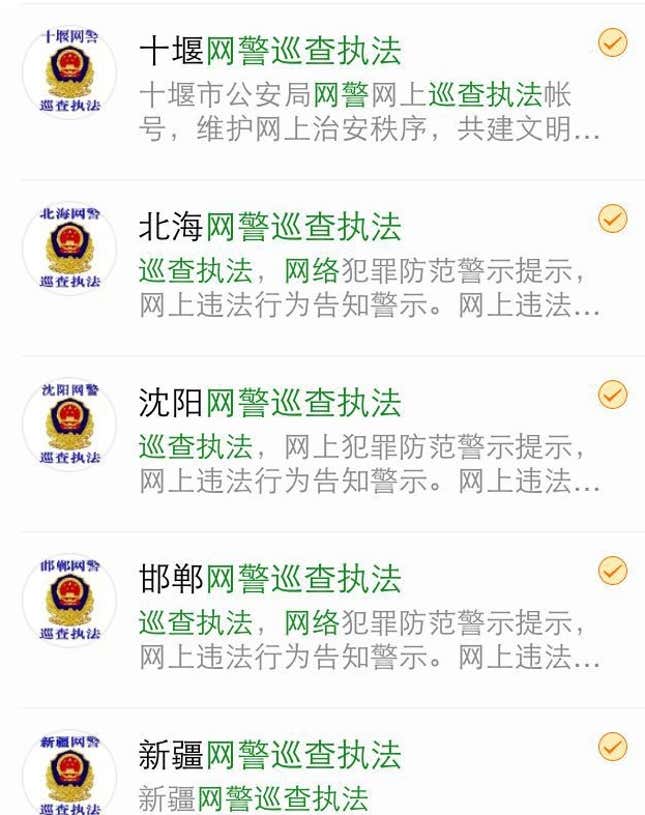 Chinese authorities are framing the initiative as a bid for transparency—Chinese authorities have long policed the internet from behind the scenes, quietly shutting down discussions, or arresting those who get too outspoken. "The internet police are coming out from behind the curtains, beginning regular open inspection and law enforcement efforts…working hard to increase a joint feeling of public safety for the online community and satisfy the public," China's public security ministry said of the project.
Already over two dozen accounts from Shanghai to Xinjiang and Tibet have opened on the microblog Weibo. The internet police in Fuzhou in the southeastern province of Fujian greeted bloggers by saying, "Hello dear netizens…Hope you all can support me and understand me! Follow me!" (So far the account has 20 followers.) Hebei's internet police wrote in its greeting, "Building a harmonious society on the internet needs everyone's effort. Please calm down and communicate politely."
To others, it is just the current Chinese administration's latest tool for curbing free expression in China. The internet has also become the focus of the government's latest push for "cultural security"—part of the country's new draft security law calls for preventing the infiltration of foreign or unhealthy values. It's no wonder that China's People's Liberation Army published an editorial last month declaring the internet the country's most critical "ideological battleground."
Chinese bloggers welcomed their new minders with both irony and criticism, addressing them as "internet police uncle." One Weibo user dared others to criticize China's late leader Mao Zedong on the forum, writing sarcastically, "Discontent with Chairman Mao? Come and have a chat." Another wrote (registration required), "Is this not controlling the minds and words of the people? If we keep going like this, how are we any different from North Korea?"
Additional reporting by Zheping Huang.