If you're reading Quartz, you know that the United States is already reducing its deficit spending fairly quickly, whatever the rhetoric in Washington. But how has that happened? The Center for American Progress, relying on public budget data, explains in a new report: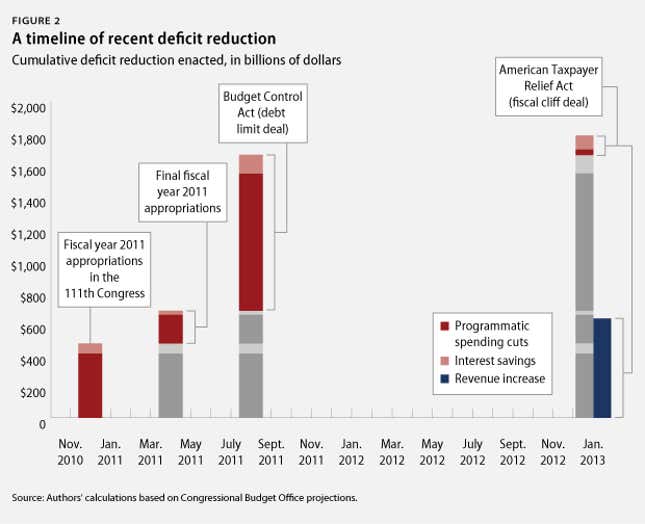 The first block represents spending cuts enacted by Congress at the end of 2010, when it froze spending rather than letting it increase with inflation; over time, analysts say, that cuts $400 billion. In 2011, the newly elected House Republicans slashed the budget further during a stand-off that almost shut down the government, then demanded lower caps on discretionary spending in exchange for lifting the debt limit. Finally, the fiscal-cliff dodging deal enacted last week raised taxes while, in an under-reported move, also cutting some spending as part of the agreement to delay further scheduled spending cuts for two months. All told, it's some $2.4 trillion of deficit reduction, mostly from the spending side.
What does that mean for the debt? It means this: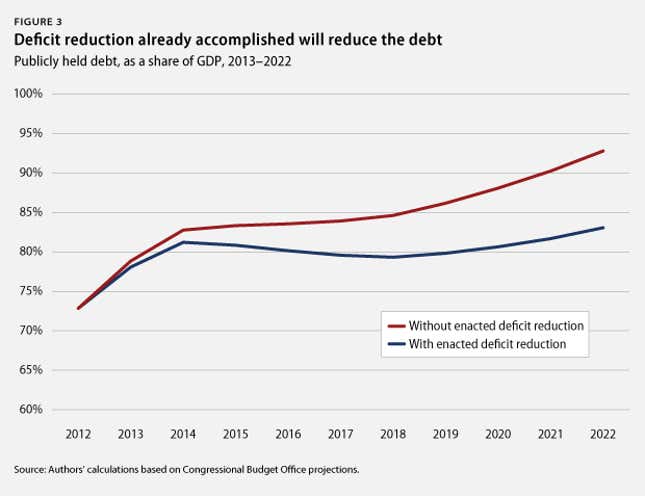 US lawmakers have stabilized the debt for a good eight years out. The trend past that first decade is still unsustainable, but that's what steady fiscal consolidation looks like: Lawmakers have time to continue gradual fiscal consolidation without risking growth.
CAP is a Democratic think-tank, but the studiously bipartisan Committee for a Responsible Federal Budget shows a similar result. Keep that in mind the next time you hear that the only way for US to avoid its dangerous debt problem is to risk a catastrophic default two months from now.