European sanctions on Russia are due to expire at the end of July. Russian president Vladimir Putin seems to have been betting that the EU, divided over Russia policy (paywall), would lift, ease, or fail to renew them, which—with the added help of higher oil prices—would allow Russia's struggling economy to roar back.
But fierce fighting today in eastern Ukraine makes that scenario look less likely. Each side blamed the other, but the US singled out Moscow-backed separatists, saying they were attempting to "seize additional Ukrainian territory."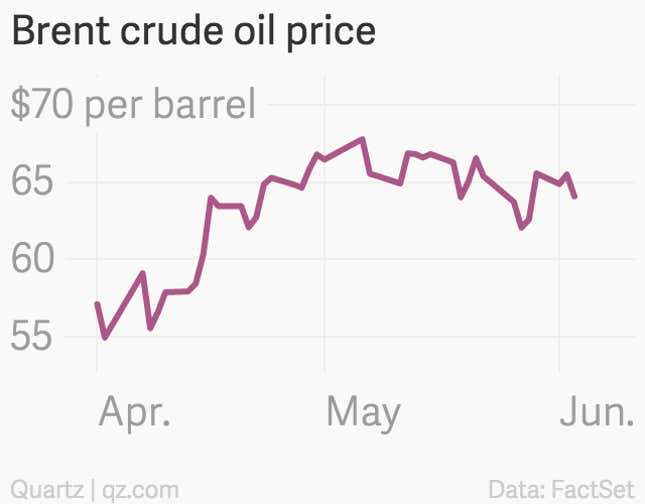 There have been reports of a buildup of military equipment for weeks, and today several hundred Russian-backed fighters went on the attack with tanks and heavy weapons, the Ukraine side reported. The fighting was in Maryinka, a tactically important town near a crossing point from rebel-held territory into Ukraine proper.
As for oil prices, they declined today on a new report showing US petroleum production at 9.57 million barrels a day, its highest in 43 years. The ruble today also fell, declining to its lowest rate against the dollar since April, as did Russian share and bond prices.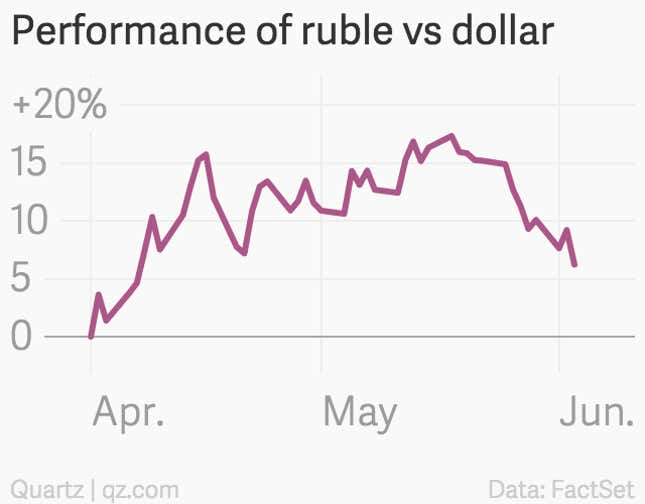 Putin has maintained a game face against sanctions—imposed by the West in response to Russia's destabilization of Ukraine—and the plunge of oil prices over the last year. He has urged Russians to stay resolute and use the collective punishment as an opportunity to build up local industry. He recently has said that the worst is past (paywall) and that Russia's economy will be growing again by 2017.
But the key factor has always been time. As long as oil prices bounce back and sanctions are lifted by the end of the year or thereabouts, Russia could emerge bruised but otherwise relatively healthy from the fracas with the West. Knowing a unanimous vote of the 28 EU member states would be needed to renew the sanctions, Putin has worked assiduously to peel away sympathetic European leaders. They have included Slovakia's prime minister, Robert Fico, and his Greek counterpart, Alexis Tsipras.
But the European Parliament on June 2 banned Russia's Brussels envoy from its sessions, retaliating against a Russian blacklist that bars 89 Europeans from visiting Russia—which was itself retaliation against European bans on key Russians. And the Wall Street Journal reported that the EU will probably continue (paywall) the sanctions until Russia satisfies truce pledges including a withdrawal of troops from Ukraine.
Both the ban and the WSJ report came a day before the renewed fighting in Ukraine. With this new combat, an end to the sanctions seems even less probable.