A report from IDC shows how Xiaomi has become the world's second largest seller of wearables, when measured by shipments. The hot item? The Mi Band, a fitness tracker priced at $15.
The product hit the market last August in mainland China, and since then has spread to India, Indonesia, Malaysia, Singapore, Hong Kong, and Taiwan. On Monday, it finally hit US and European shores, among the first Xiaomi products to reach the West.
The Mi Band's rise has come quickly: Fitbit, in the No. 1 spot, has had products on the market since 2009 and prices its trackers from $60 to $250. Xiaomi's brightly colored version is less souped up than the gadgets in Fitbit's catalogue—it tracks sleep and steps, and also pairs with a phone for some basic notifications.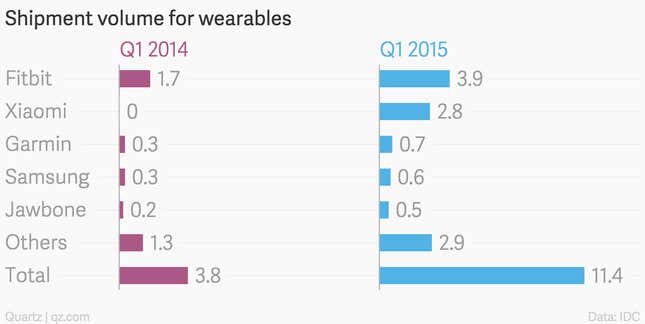 Xiaomi does not break out its revenue by product, but it brought in $12 billion in total revenues during 2014, mostly through gadget sales. If sales for the Mi Band continue to grow, it could capture a majority of the low-end market, as its phones have in China.

Xiaomi's quick rise also shows that if you want to build a big wearables company, you might want to skip the whole "engineering" part and get straight to the selling.
Despite its name and branding, the Mi Band isn't actually a Xiaomi product. It's made by Huami Technologies, a separate company with its own CEO. In addition to the Mi Band, Huami also makes Xiaomi's smart scale.
Except for its routers, smart TVs, and mobile handsets, all of the other products Xiaomi sells on its e-commerce website are made by third parties. Typically, Xiaomi will invest in these firms and provide them with extra resources for engineering—not to mention the logistics and marketing muscle necessary to move millions of units.
Some of Xiaomi's partner companies retain their own branding—like Yeelink, which makes a Hue-esque smart lightbulb. Some, like Huami, keep their identity hidden behind Xiaomi's logo. Others, like headphone maker 1More, vary the branding depending on the product.
Xiaomi benefits from this arrangement by earning access to data from Mi Band users, and also by taking a cut of sales. And Huami, by building for Xiaomi, ensures that its $15 product now can reach more consumers than bigshots such as Samsung and Jawbone.