Fantasy sports is a multibillion-dollar industry, and it's growing. Fantasy football, in particular, is a behemoth, and has changed the way many Americans watch their favorite sport. Gone are the days when people cared which team actually won the game. As long as the players on their fantasy teams rack up the stats, everything is just peachy.
Fantasy sports aficionados might not like to admit it, but what they do is incredibly nerdy. (I should know—I've been playing fantasy football with the same group of friends since the 4th grade.) But now there's a whole different kind of nerdy—fantasy movies. And we're not talking about The Lord of the Rings or Harry Potter.
A story in the upcoming issue of The Hollywood Reporter spotlights renowned fantasy sports guru Matthew Berry and his new Fantasy Movie League. The notion of "fantasy movie leagues" isn't exactly brand new: Sites like Hollywood Stock Exchange have been around for awhile. But Berry, ESPN's senior fantasy sports analyst, is perhaps the most famous name in the vast fantasy sports community, and the fact that he has now made his own league suggests that it's showtime for fantasy movies.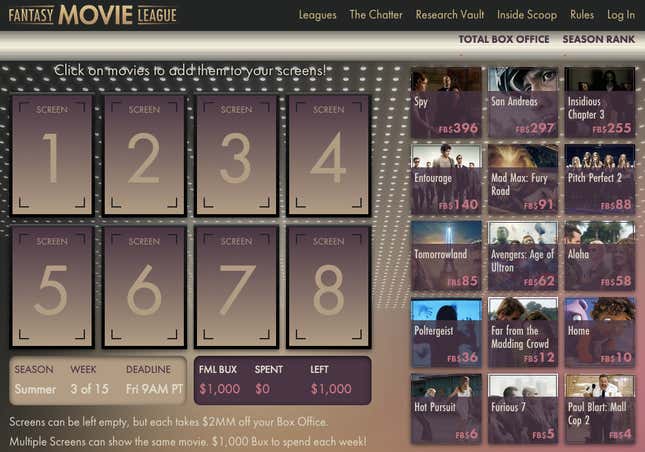 In fantasy sports, the "fantasy" is to be a team boss, filling out a roster. Berry's league places the player in the slightly less glamorous role of a cineplex owner filling her screens with movies (not, for example, a movie studio head or casting director).
Each week, players begin with a budget of $1,000 and must select up to eight movies (currently out in theaters in the US) to fill out their imaginary cineplexes. Movies are priced based on how well they've already performed at the box office and how long they've been in theaters. Entourage, for instance, costs $140, while Paul Blart: Mall Cop 2 is only $4. The more money your movies make in real life, the better your fantasy movie squad performs.
If you wanted to spend all your money on Entourage, you could do so, but you would only have enough to fill seven of your eight screens. So while you may want the blockbuster movies in your arsenal, it's not always advantageous to go all in on the most expensive movies. Also, who would want to go to a theater where Entourage is playing on every single screen?
There are four movie "seasons"—summer, fall, awards season, and spring. Players have to consider a variety of factors: How many real-life screens each movie is playing on, what kind of reviews they're getting, how similar movies have fared in the past, and even things like how the weekend they open on could affect how many people go see them. The concept may seem simple, but its execution is anything but.
Interspersed between Berry's tweets about when is an acceptable time to draft Peyton Manning this year and who will be the lead running back for the Dallas Cowboys are gems like these:
"Polter" is short for Poltergeist, a remake of the classic horror film that came out May 22. Berry apparently elected to invest heavily in Pitch Perfect 2, at Poltergeist's expense. We think that was probably a wise decision.
It's unlikely that fantasy movie leagues will ever come close to the popularity of fantasy football. But they could, with Berry's help, become the next big thing in fantasy gaming. If nothing else, it shows that the concept of fantasy sports doesn't only have to apply to sports.