For the last few years Australia's economy has has been largely—and quite successfully—based on digging stuff out of the ground and selling it to China. But as the expected growth rate of the People's Republic has to ratcheted down along with prices for some of the hard commodities that Australia specializes in, the Ozconomy is being forced to become more domestically oriented. Today's update on Australian retail sales, which fell unexpectedly in November, adds to the evidence that the gear shift might not be completely smooth. The Reserve Bank of Australia has cut rates to try to help make things go a bit easier, but lower rates don't appear to be a particularly effective tonic at the moment, something that policy makers openly admit.
Still, don't feel too bad for Australia. The economy has had a spectacular run in recent decades. In fact it hasn't been in recession since the early 1990s. So a bit of a cool off is probably long overdue. And if JP Morgan's predictions are right, it will be only a gentle one…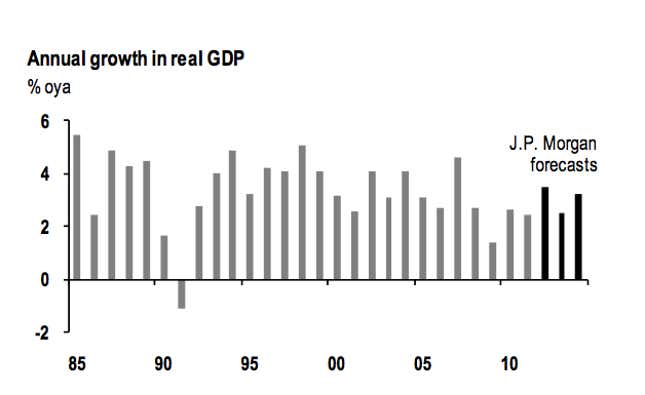 Correction: A previous version of this post said Australia's economy had been based on China for "for decades." China only became Australia's largest trading partner for the first time in 2007.