This post has been corrected.
The people have spoken and they love craft beer. But they buy Bud Light.
Ranker.com, a crowdsourced (if unscientific) ranking site, posted the results of a poll of more than 3,500 voters casting 44,000+ votes for their favorite of 386 beers. The full list of the world's favorite beers is available on the website, but Ranker also provided Quartz with the results for the approximately 2,000 participating American voters. While Guinness scored the number one spot, most of the top ten are craft beers:
1. Guinness
2. Newcastle Brown Ale
3. Sierra Nevada Pale Ale
4. Samuel Adams Boston Lager
5. Stone IPA
6. Fat Tire
7. Stone Brewing Co. Arrogant Bastard Ale
8. Stella Artois
9. Rogue Dead Guy Ale
10. Blue Moon
But that that's not what Americans are actually buying, according to data from Euromonitor. Below are the top 20 beers sold in the US in 2014, by volume. Guinness, the number one in the poll, doesn't even make the list—it's at number 28.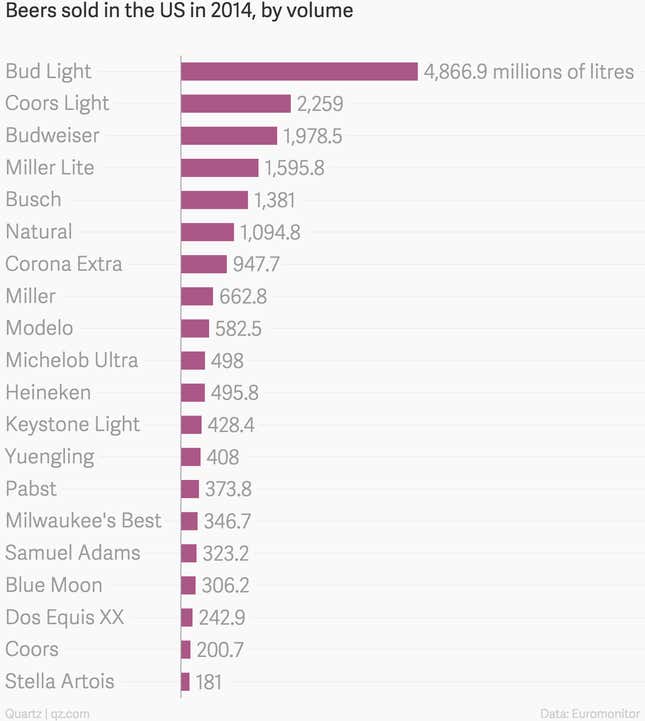 "The Ranker results are based on the personal preferences of our audience who voted on the list," Ranker's Jennifer Garnick told Quartz in an email.  "We asked voters not to limit their voting to what they drink / buy most regularly, but more on taste and overall preference. Our list isn't based on sales." The list, which is based entirely on the responses of self-selected voters, does not take sales into account.
Correction: A previous version of this post misspelled the name of the company. It is Ranker, not Ranked.
Featured photograph by Mike Burns and shared under a Creative Commons license on Flickr. It has been cropped.