China's rising shopping class has been a huge growth driver for both Apple and the Swiss watch industry.
Greater China generated almost 20% of Apple's revenue last year and more than a third of its growth. Meanwhile, China and Hong Kong accounted for 25% of global Swiss watch exports last year, despite a continued decline in luxury gifting to government officials, according to a research report from RBC Capital Markets.
So it's no surprise that a survey of wealthy Chinese, commissioned by RBC, would return seemingly good news for both.
About 60% of respondents said they were interested in buying a watch that costs more than $800 over the next year.
Classic mechanical watches were the most popular type, with a pricing "sweet spot" between $1,600 and $4,000.
The brands Chinese buyers want: Omega, Rolex, Longines, Cartier, and Tissot.
Not included in the poll: Apple, which just launched its new Apple Watch in nine countries, including China and Hong Kong. The survey did ask, however, if the shoppers wanted to buy a smartwatch, a market where Apple stands to play a large role. The majority said yes.

Meanwhile, according to a previous survey conducted by Hurun Report, Apple was by far the most desired luxury brand among wealthy Chinese—men and women.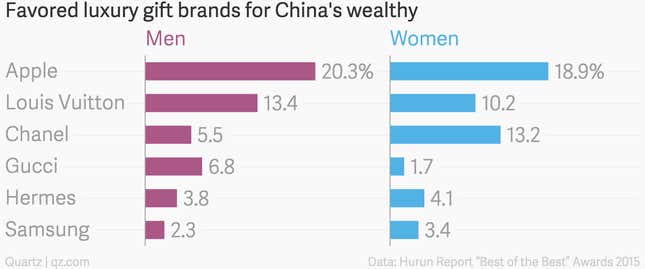 What happens next?
One thing about watch collectors is that they tend to buy many watches. Of the Chinese shoppers surveyed who want to buy a smartwatch, more than half already have two or three watches.
But you can only really wear one at a time. And while much has been made about the Apple Watch's design—and its gold edition, seemingly aimed at the Chinese luxury audience—its usefulness will ultimately determine its long-term success and impact.
If the smartwatch becomes the next essential tool, and the Apple Watch takes China, it will be difficult for the Swiss watch industry to maintain its recent boom.