Silicon Valley loves to tout the narrative of the whiz kids who dropped out of college and went on to build immensely successful companies (see: Bill Gates, Steve Jobs, Mark Zuckerberg). The reasoning goes that in a land of meritocracy (debatable), a degree is just not that important anymore.
And so in 2011, the Thiel Foundation, created by PayPal cofounder and billionaire investor Peter Thiel, began awarding $100,000 grants to young college dropouts so they can pursue their crazy entrepreneurial dreams. In the first year, 430 people under the age of 20 applied, and 23 were named fellows. But for its 2015 class, the foundation received a record 2,800 applications—a 400% increase from the year prior—and admitted 20 people.
The 0.7% acceptance rate makes the program more competitive than the famed startup incubator Y Combinator or Harvard, though the Thiel Foundation's applicant pool is considerably smaller than both.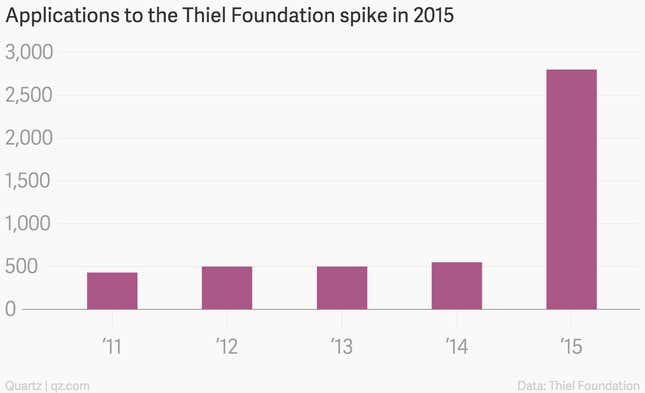 A few things help explain this spike. The application itself has been shortened, making the program a lot more accessible. This year, the organization also raised its upper age limit from 20 to 22 years old. Awareness has likewise increased. In the fall, Thiel released his book, Zero to One, and subsequently has spoken to "thousands of young people worldwide" as part of the book's promotion, according to the organization.
"Probably the spike in applications reflects a wider cultural trend," Thiel Foundation CEO Alana Ackerson tells Quartz. "2014 saw an explosion of interest in tech entrepreneurship, as more and more young people are realizing that developing new skills matters more than credentials."
To date, the 80 former and current Thiel fellows have collectively raised $142 million in venture capital, and their companies have generated $41 million in revenue.
All that said, just this week, Bill Gates—the poster boy for successful dropouts—urged young people to finish their degrees, noting that grads are more likely to find rewarding jobs, earn more money, and live healthier lives.
"Although I dropped out of college and got lucky pursuing a career in software," he said, "getting a degree is a much surer path to success."