Last season's drought in the United States has pushed hay prices there to an all time high—so high, in fact, that ranchers are seeing their bundled grasses stolen, The New York Times reports.
Alfalfa hay prices are higher than the previous record levels reached in 2008 when 19% percent of Texas was classified as having "exceptional drought," the most severe level. Currently 6.7% of the contiguous United States, an area larger than Spain, is listed as experiencing an exceptional drought.
Hay prices are now more than twice as high as ten years ago. In the upper Midwest, prime hay prices exceeded $400 per ton last week.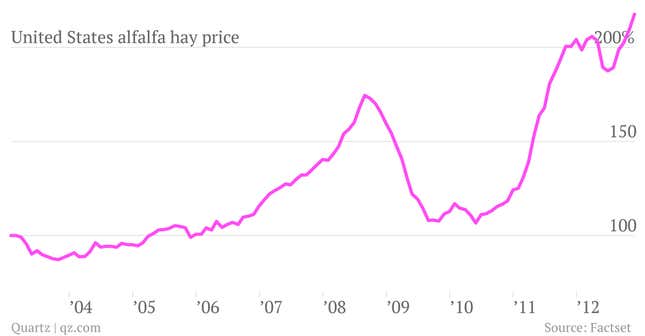 A similar trend in corn has already led to higher meat prices.