A year after its $3 billion acquisition of Beats, Apple finally debuted its long-awaited music streaming service this week. Given the decline of legal music downloads, the move makes perfect sense. According to PriceWaterhouseCoopers, revenue from streaming music is projected to eclipse downloads by 2018.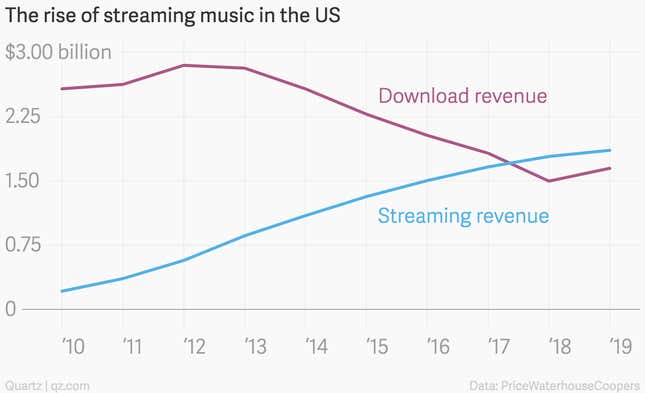 Consumers may be excited about Apple's Spotify contender, but on-demand streaming is only a small part of the company's music strategy. The potential bigger money-maker lies within another service embedded within Apple Music: Beats1, an online radio station complete with round-the-clock music handpicked by actual DJs.
"The truth is internet radio isn't really radio," Eddy Cue, Apple's senior vice president of internet software and services, said Monday (June 8) at the company's Worldwide Developer Conference. "It's just a playlist of songs. We wanted to do something really big: a worldwide radio station broadcasting around the globe."
Beats1 will be available to iPhone and iPad users for free when it launches June 30, regardless if they subscribe to Apple Music or not. However, Android users, who will get the service later this year, will only be able listen to Beats1 if they pay for Apple Music—$10 a month, or $15 for a monthly family plan for up to six people.
For Apple, radio is an opportunity to be a tastemaker and to introduce new music to the masses. But it also represents a potentially massive new source of revenue. Beats1 will have sponsors, so listeners can expect the familiar interruption: "This was brought to you by X."
Unlike other forms of traditional media, such as newspapers, radio remains a healthy business in the US. In 2014, terrestrial and satellite radio brought in $17.3 billion in advertising revenue, which is rising at a rate of 1-2% each year. In contrast, music streaming in the US reaped just $1.1 billion in advertising and subscription revenue last year.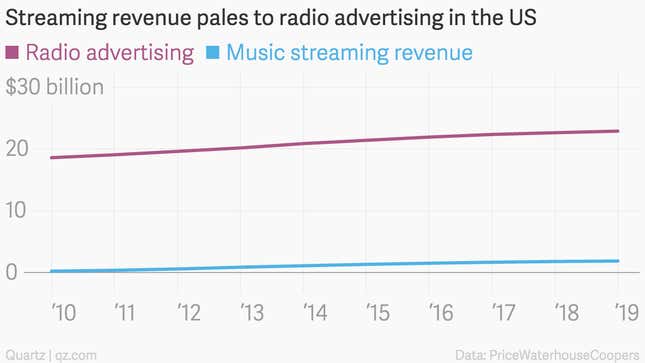 "There are more people in the world who listen to the radio than can read, so we're not surprised Apple has decided to enter the streaming radio business with Beats1," John Donham, the CEO of TuneIn, which streams terrestrial radio online to 50 million people each month, tells Quartz. "Apple's entrance into the radio market reaffirms the importance of live radio, a compelling and popular experience for listeners worldwide," he adds.
Radio continues to have broad reach as well. In the US, 245 million people over the age of 12 listen to the radio each week, according to the Radio Advertising Bureau. And the medium's particularly attractive to advertisers because of its stronghold with a number of target demographics: upscale consumers, millennials, African-Americans, and Hispanics.
Of course, there's the other bottom line: If Beats1 succeeds in curating music that people actually enjoy, it could convince people to ditch services like Pandora and Spotify for Apple Music, which will rely on humans with great music taste to DJ for them—just like a normal radio station.