What a difference two years makes.
This is a picture of Ada Colau, the new mayor of Barcelona, being carried away by riot police officers in July of 2013. At the time a leader of the Platform for People Affected by Mortgages, Colau was arrested while "occupying" a Barcelona bank during an anti-eviction protest: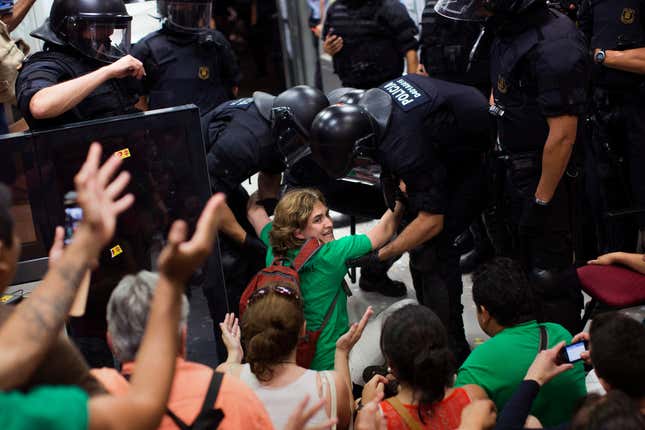 And here's Colau on June 13, right after being sworn in as the next mayor of Barcelona: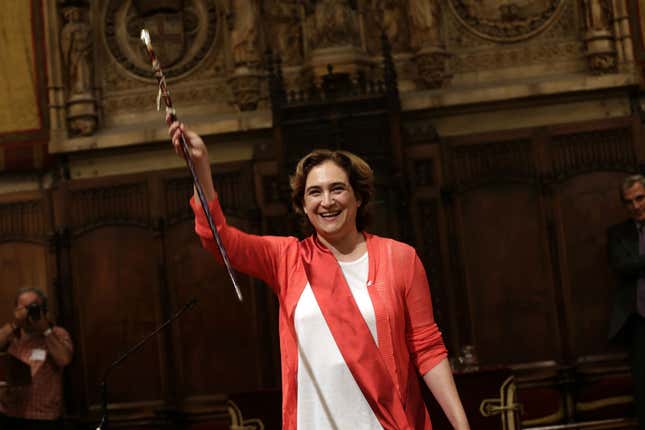 Colau, a well-known housing and anti-eviction activist, is the leader of the leftist coalition Barcelona en Comú (Barcelona Together). During Spanish regional elections in May, Colau's party edged out the coalition lead by former Barcelona mayor Xavier Trias. Colau was helped by endorsements and support from new anti-austerity party Podemos, as well as the left-wing Catalan Green Party.
Meanwhile in Madrid, 72-year-old judge and leader of a similar leftist alliance Manuela Carmena was sworn in as mayor thanks to support from the Socialist party. Carmena's victory signals the end of 24 years of conservative leadership in the Spanish capital.
Both Colau and Carmena have promised to cut their salaries and stop evictions. If Colau's past record is any indication, she just might give banks a run for their money.