Last month, Pizza Hut announced it was taking artificial flavors and colors out of its nationally available pizzas. This week they announced they're putting hot dogs in.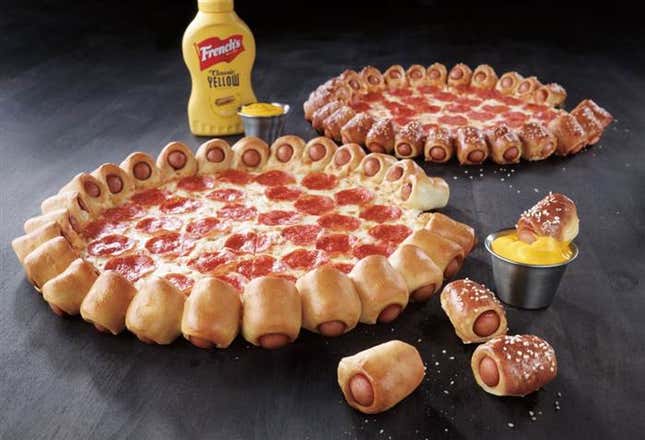 The pizza chain is planning to debut its Hot Dog Bites Pizza on June 18, with a rollout at its 6,300 locations in the US, Bloomberg reports. It will include 28 "premium hot dog bites" baked into the crust. Customers can then pull off the pigs-in-a-blanket style pieces, and dip them in the side of French's mustard that comes with the order.
Pizza Hut is the largest pizza chain in the US by sales, according to market research firm Technomic, but its sales dipped slightly (0.9%) in 2014, while sales rose at rival Domino's (up 9.2%) and Papa John's (up 7.6%). "We obviously have not been happy with the performance of the relaunch of Pizza Hut," Greg Creed, CEO of parent Yum! Brands Inc., said at an investor conference last month, as reported by Nation's Restaurant News.
Other iterations of hot-dog stuffed crust pizzas have been available at Pizza Hut restaurants in the UK, Australia, Canada, the Middle East and Asia. The version coming to the US, available "while supplies last," will be full of hot dogs, but free of artificial flavors and colors, Pizza Hut confirms.
The photograph above was taken by Gordon McDowell and shared under a Creative Commons license on Flickr. It has been cropped.