Some of the most interesting features Apple unveiled this week for its iOS 9 operating system were new controls specifically designed for the iPad.
These included:
A new split-screen mode to quickly open a second app in the right column and then slide it away. For example, you could quickly slide the Twitter app into view while you're reading a website.
A second, more powerful split-screen mode to fully use two apps at a time, side-by-side. For example, you could simultaneously browse a map while making a to-do list for the day.
A picture-in-picture mode that lets a video float over the rest of what you're doing on the iPad, with adjustable size and positioning.
A new set of keyboard features. These include the ability to swipe over the keyboard with two fingers to simulate a trackpad, which is designed to simplify moving around a document and selecting text.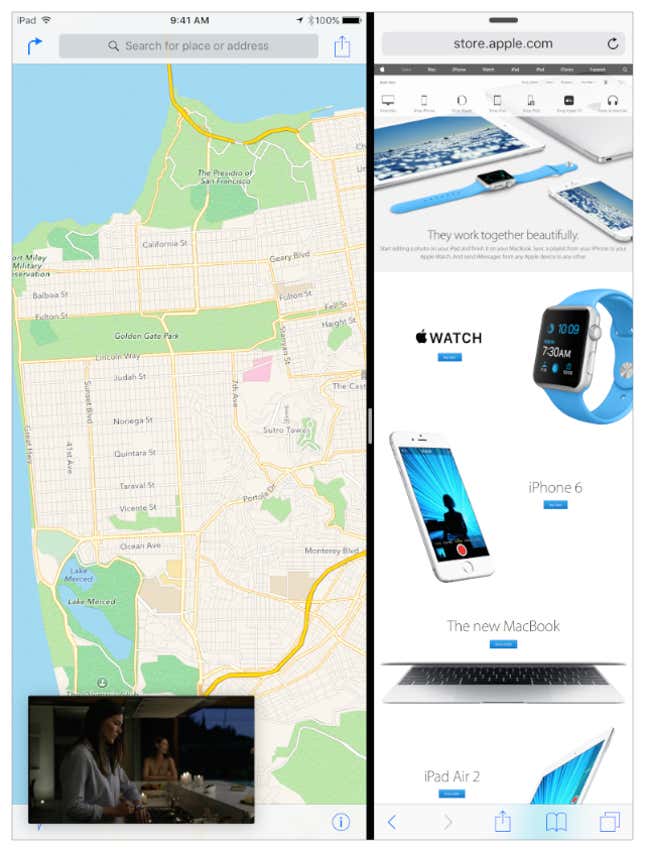 These additions will work fine on today's current iPad lineup—the iPad Air, with a 9.7-inch screen, and the iPad mini, with a 7.9-inch screen. But if you read between the lines, it's easy to see Apple is thinking bigger, in the literal sense. Some of these changes only really become great on a big screen.
For example, selecting text with a trackpad doesn't really save you too much arm motion on an iPad mini. But on a huge iPad, where there's more space between the keyboard and what you're working on, it does. Same goes for split-view mode, which begs for more screen real estate.
It seems Apple is setting itself up to easily be able to introduce a new, even-larger iPad—perhaps as soon as this fall.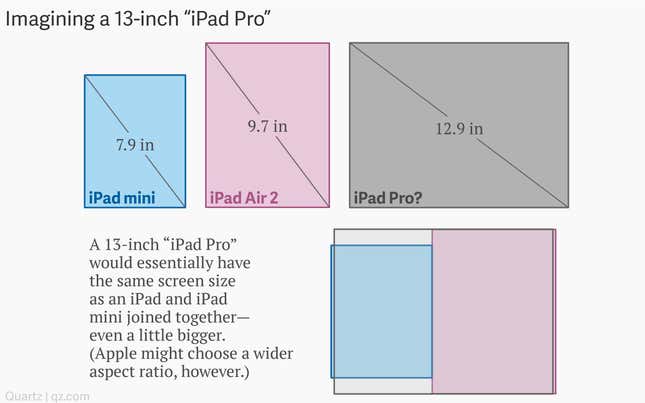 Apple has reportedly been working on one for a while, featuring a 12.9-inch screen—about the same size as a standard Mac laptop. But it didn't ship last year, and Apple didn't use its Worldwide Developers Conference keynote this week to unveil one, either. (Apple did, however, have a session at its conference called Designing for Future Hardware. This instructed app designers on prototyping and building apps for a wide variety of devices that don't yet exist.)
Now that these big-iPad-friendly features have been announced for iOS 9, perhaps we'll finally see the corresponding hardware this year. Apple typically releases its new iOS in September alongside new iPhones, and updates its iPad line at an event in October.
The broader story is that Apple is actively trying to differentiate the iPad as a powerful productivity device and not just an entertainment slate. While the iPad launched as Apple's fastest-selling product of all time, sales have recently declined.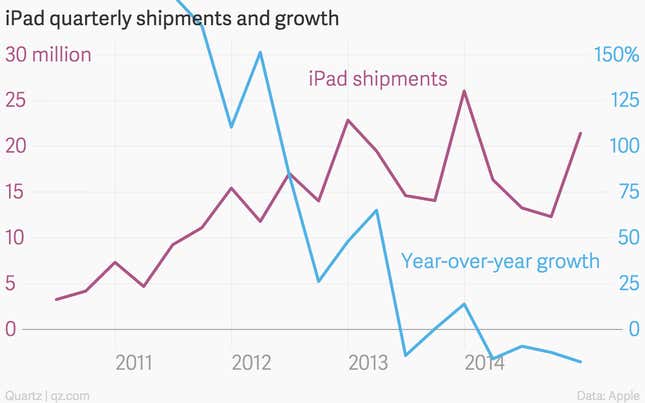 Apple's move to court professional users with more PC-like features—and its business-apps partnership with IBM—might help. There are many potential iPad use cases that haven't been tapped yet, especially in business. (While Apple's 63 million iPad shipments in 2014 beat its 20 million Mac shipments, almost 300 million Windows PCs were purchased globally last year, according to Gartner.)
A 13-inch "pro" iPad probably wouldn't be Apple's top seller—it's likely to cost considerably more than the consumer base model—but it might find an audience, especially as more powerful software capabilities evolve.