GP Bullhound, an investment bank that focuses on the technology sector, has a new report out today looking at European tech "unicorns," the term the industry insists on calling startups valued at $1 billion or more.
The good news is that in the year to April, 13 European tech companies crossed the $1-billion barrier, via both private fundraising and public stock issues. These include well-established firms like Rocket Internet and Shazam, as well as newer entrants such as TransferWise, a remittance firm, and BlaBlaCar, a ride-sharing company. That brings the total number of billion-dollar startups incubated in Europe up to 40, a respectable number for a continent constantly worried about being left behind by Silicon Valley.
Yet those worries remain legitimate. In the same 12-month period, the United States produced 22 billion-dollar startups. And America's tech companies remain far more highly valued than Europe's. Airbnb's $20-billion value is worth more than than all four of Germany's unicorns. At $40 billion, Uber alone is worth as much as every billion-dollar tech company in Britain (of which there are 17). Facebook's market cap, at $275 billion, is more than twice the $120 billion value of every European unicorn put together.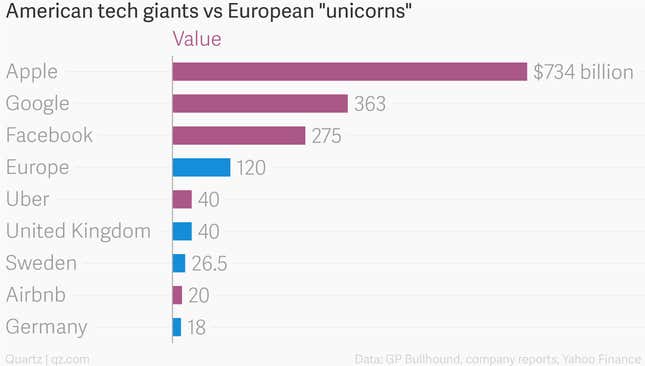 Moreover, three European companies lost their $1 billion valuations over the past year, dropping out of the "unicorn club" (making them un-unicorns? un-icorns? horses?). The three are boohoo.com, an online retailer; eDreams, a travel company; and Monitise, a payments firm.
The report will generate mixed emotions in Brussels, where the European Commission is in the midst of a massive push to make Europe's technology industry more globally competitive, and to reduce local business and consumer reliance on American firms. Raising a baker's dozen of highly-valued companies over the past year is a good start. But not until the European Commission is able to reduce barriers to trade within the EU will it see companies achieve the scale, and value, of Uber, Facebook, and the other unicorns reared on the other side of the Atlantic.