Elon Musk's SpaceX will build a test track for the Hyperloop, the solar-powered pneumatic mass-transit system he hopes will replace high-speed rail as a regional people-mover, shooting pods full passengers through long tubes to their destinations, according to documents (pdf) obtained by Quartz.
As Musk has hinted, SpaceX will create a one-mile long test track with the hyperloop tube four to five feet in diameter, most likely at the company's rocket test facility in McGregor, Texas. The company will invite engineering teams from universties, non-profits and companies to submit designs and build pods to be tested there next year. Data from the tests will be open-sourced, and applications are being accepted on this website until September.
Musk proposed the Hyperloop in a white paper (pdf) released in 2013, describing it as a cheaper and faster alternative to California's $86 billion high-speed rail project between San Francisco and Los Angeles. He argued that his technology would be an advancement over California's planned train, which when built won't match the high-speed transit systems already used in Asia and Europe. And, though Musk is not involved, some companies have sprung up to try and make the hyperloop a reality.
However, civil engineering experts question many of Musk's estimates and said that obtaining the construction permissions, as well as deploying untested technology, will be more costly than anticipated. Some fear that the Hyperloop may not be able to move enough people for it to be a useful part of regional transit infrastructure.
SpaceX did not respond to questions about whether hosting the competition would convey any benefits for the company's primary mission of developing space access technology. But, since the firm is privately held, there is little to stop Musk from investing in the project, especially if it boosts the interest of high-quality engineers in his company, a move akin to Google's 20 percent time.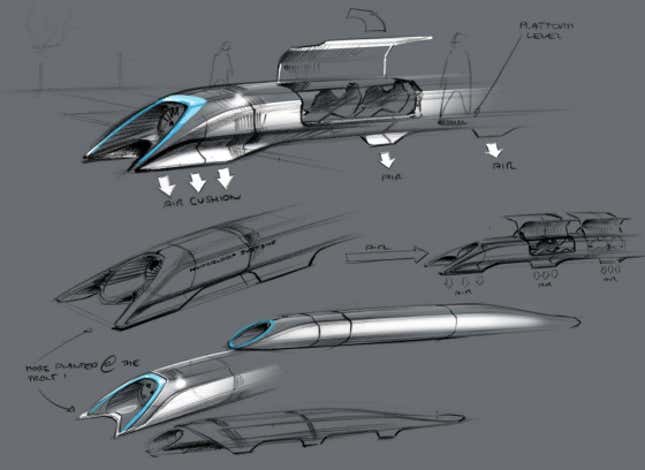 Indeed, one of the people behind the Hyperloop competition is Steve Davis, one of SpaceX's earliest employees and now the head of Advanced Projects there. An extremely well-credentialed engineer, Davis worked on the first Falcon rocket and the Dragon space capsule, as well as the original Hyperloop white paper. Davis has a thing for fun side-projects; he also owns restaurants in Washington, D.C., including Mr. Yogato and Thomas Foolery, where customers can play games to win discounts.
According to the documents, this competition will address a variety of technical questions, including the safety traveling through the Hyperloop. Participants will need to be prepared to address what will happen if the pod loses power or the tube suffers a breach. They will also be asked to design sensors for the pod, a communications link with its remote operators, and a suitably aerodynamic shape. Get ready for questions like "what is the heat flux into the capsule as a function of speed and tube pressure?"