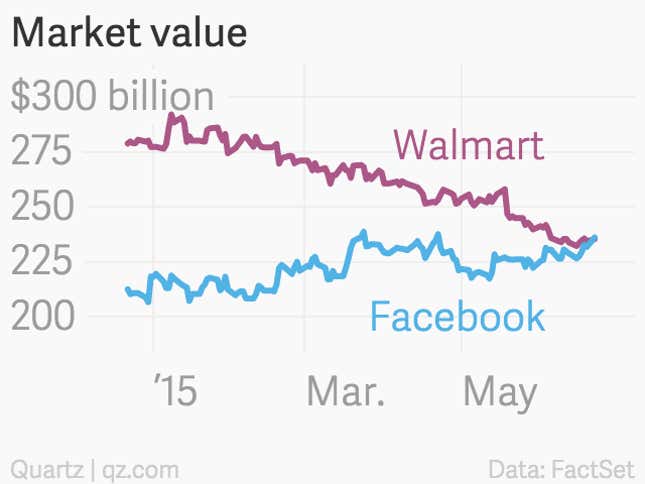 In a little over three years as a public company, Facebook is now worth more than Walmart.
This change in the corporate pecking order is the culmination of a remarkable surge for the shares of Mark Zuckerberg's social media giant, and a long stagnation for those of the world's largest retailer. Over the last year, Facebook's stock has jumped roughly 30% as the broader S&P 500 has barely managed to keep its head above water. The climb has added more than $65 billion to Facebook's market value, bringing it to more than $236 billion, just above Walmart's $235 billion. (Full disclosure, this is just intraday trading. Things could end up differently by the time the market closes.)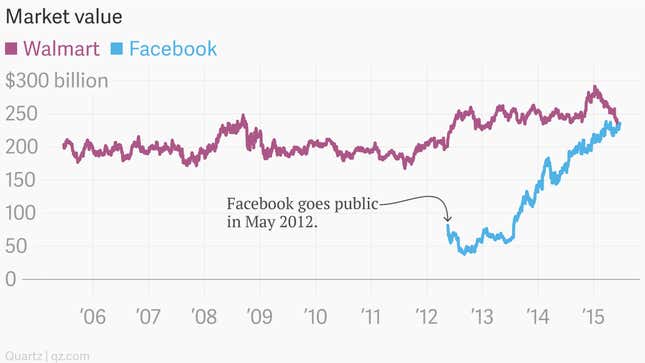 Market cap leapfrogging like this happens all the time. But this one might feel particularly ridiculous to many. If we size up Facebook and Walmart, there's no contest as to which one has the larger economic footprint. By revenue, Walmart is the largest company in the world, with annual sales clocked in at $476 billion last year. Facebook recorded revenue of roughly $12.5 billion.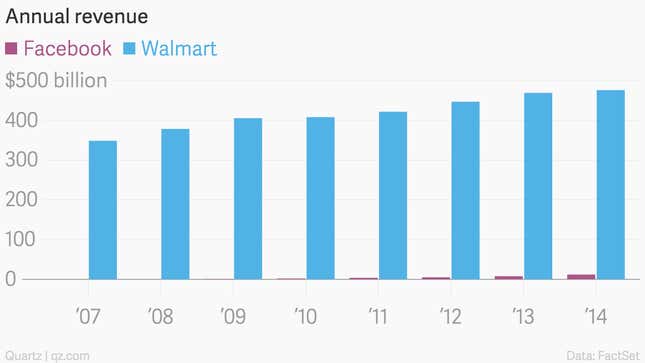 But the fact that Facebook's market value has nosed ahead of one of country's longstanding economic bellwethers underscores a broader shift that is intuitively easy to understand: Technology is playing a larger and larger part in our lives. Therefore, technology should be playing a larger and larger role in the economy.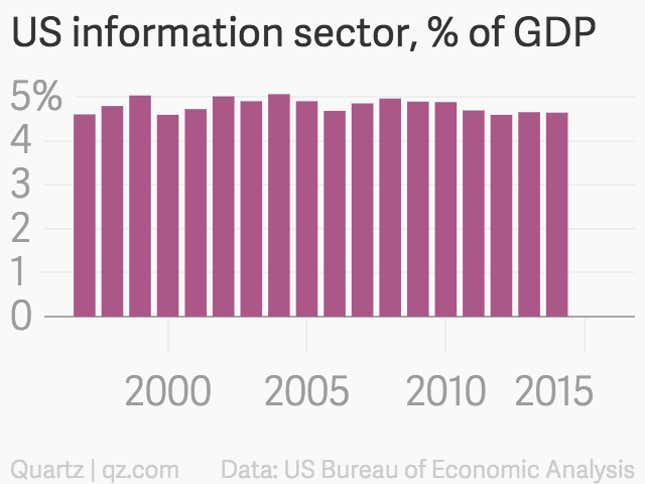 However, that's not always apparent in official statistics. For example, the information sector—which includes software, data processing, web search portals and other technological business nooks—isn't exactly devouring the US economy. The information sector's share of economic output has stayed remarkably flat, at about 5% of GDP in 2014, roughly where it was in 1997. (By comparison, the mining sector has leapt from 1.1% of GDP to 2.6% over the same period.)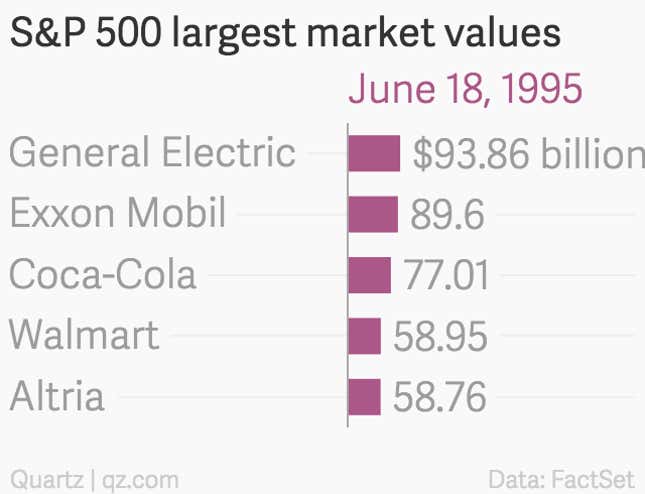 This is largely because GDP—the benchmark measure of "the economy"—is calculated by adding up monetary transactions. So while Facebook's advertising sales contribute to GDP, the millions of users logging on for free each day don't register at all. (The same goes for Google searches and visits to Wikipedia.) That benefit is what's known as a "consumer surplus," a benefit to well-being that's not captured in traditional economic statistics.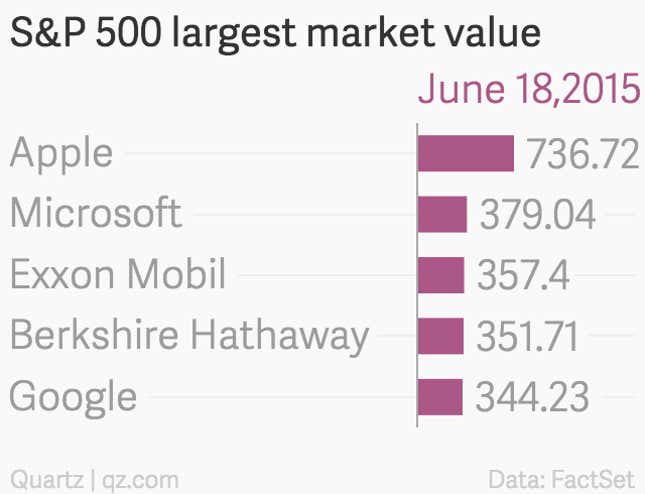 Markets aren't a perfect mirror of the economy either. But over time they have shifted—even setting aside the fact that Facebook leapfrogged Walmart—in a way that reflects technology's growing economic importance, at least in the minds of investors. The largest US companies by market value are Apple and Microsoft, and Google has also fought its way into the top five.
Of course, there's an age old tension between moody—and often momentary—market swings and economic reality.
None of this is to say we're set up for a replay of the tech stock bust of the early 2000s. While Facebook's sales and profits seem piddling compared to Walmart and Exxon, at least tech industry profits now actually exist. (Much of the dotcom boom of the 1990s was based on pure vapor.) But as Facebook's massive valuation shows, there's still plenty of indication that investor optimism about technology can run far ahead of economic reality.